[WATCH] MS Dhoni Gets An Unusual Gift From A Fan, Video Goes Viral
---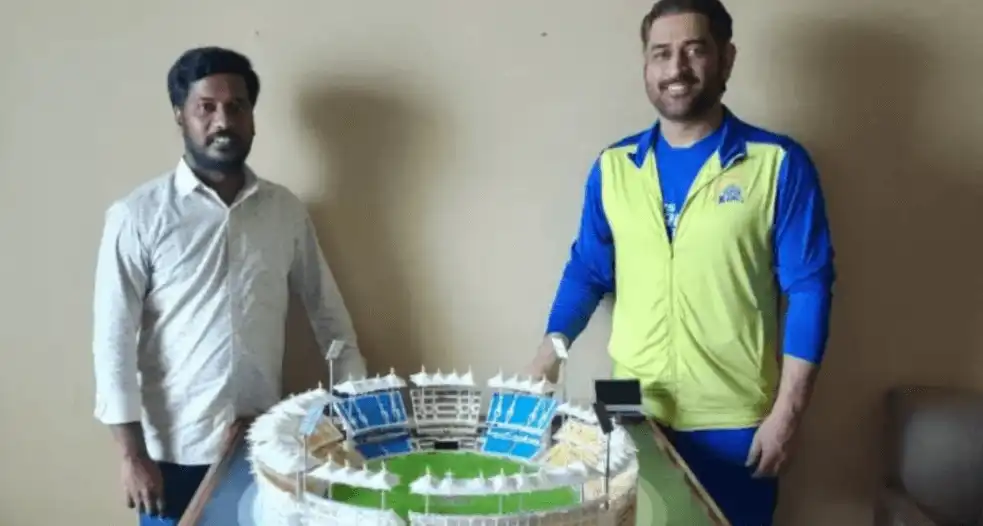 MS Dhoni with a Fan (Source: Twitter)
Former Indian cricket captain and iconic superstar MS Dhoni is revered and admired wherever he goes. However, the level of adoration he receives reaches unparalleled heights when he plays for the Chennai Super Kings at the renowned Chepauk Stadium in Chennai, Tamil Nadu.
During matches at his home stadium, the crowd unites in an overwhelming display of support, chanting his name from every corner of the stadium. But, recently, a fan presented Dhoni with a remarkable gift that has left the cricket legend and the internet in awe. The gift in question is a miniature model of the Chepauk Stadium, meticulously crafted to include a striking likeness of Dhoni himself.
This incredible gesture has captured the hearts of fans and created a buzz on social media. The miniature stadium is a testament to the unwavering love and admiration that the people of Chennai have for their beloved "Thala" (meaning leader in Tamil). The model's intricacy and attention to detail have further amplified the excitement surrounding this unique tribute.
As images of the miniature stadium circulate online, fans and cricket enthusiasts marvel at the craftsmanship and the significance of the gift. It symbolises the deep connection between Dhoni and his loyal fan base and the lasting impact he has had on the sport of cricket in India.
The miniature Chepauk Stadium with Dhoni figurine is a remarkable piece of art and a representation of the enduring bond between a cricketing legend and his ardent supporters. It is a testament to the incredible support and admiration that MS Dhoni continues to receive, particularly when he steps onto the hallowed ground of the Chepauk Stadium in Chennai.