'If The Ball Beats You...': Andre Russell Unravels The Conversation He Had With Rinku Singh
---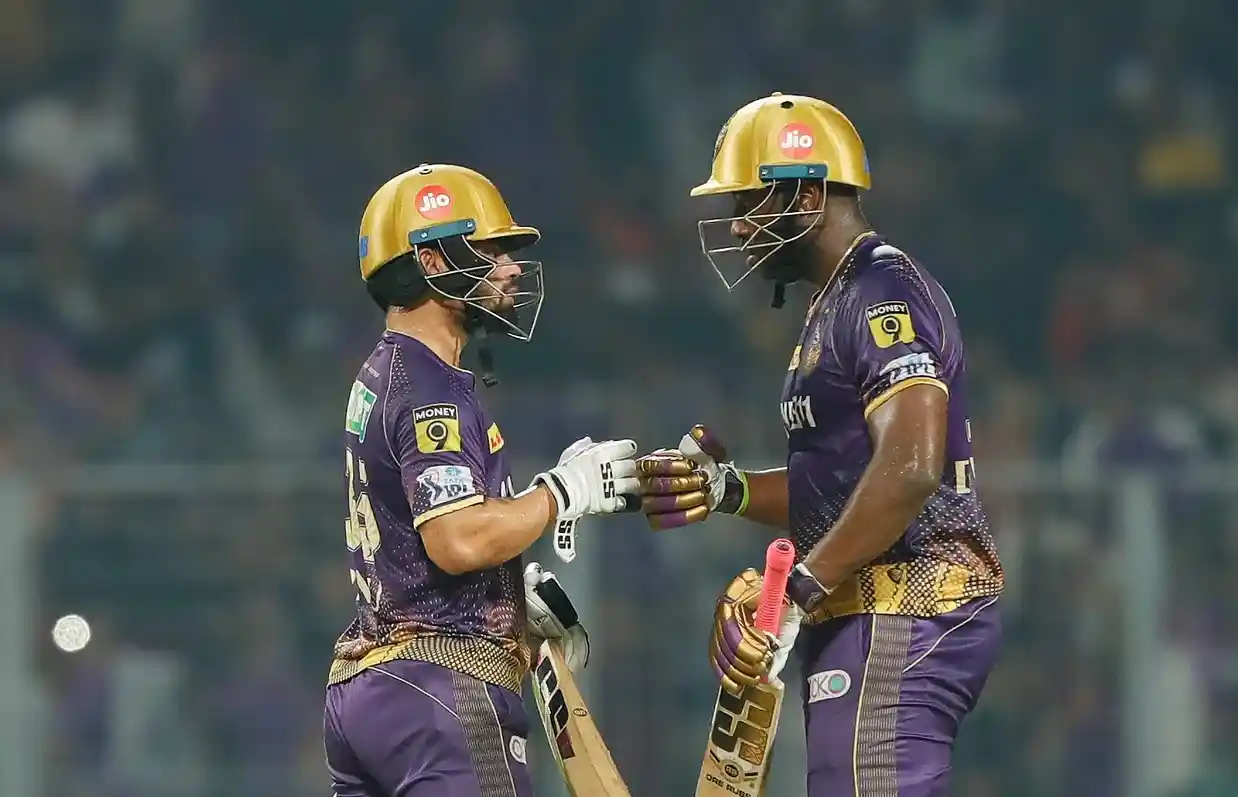 Rinku and Russell won the game for KKR [iplt20.com]

The 53rd fixture of the 2023 IPL edition between Kolkata Knight Riders (KKR) and Punjab Kings (PBKS) ended in a nail-biting thriller. Once again, Rinku Singh emerged as a usual suspect who bailed KKR out of trouble by hitting the winning runs in the last ball of the match.
Although it was Russell who was awarded as the Man of the Match for his heroic knock of 42 (23), Rinku however became the centre of attraction as he held his nerve and outsmarted Arshdeep Singh leaving him teary-eyed at the end of the game.
This was not the first time Rinku played such a scintillating innings to get his side over the line. During the 13th fixture of the season, KKR found themselves in a similar situation. With 29 runs needed in the final over, it was all down to Rinku Singh to do the unthinkable. He then launched a scathing attack against Yash Dayal and smacked 5 consecutive sixes to seal the deal for the Knight Riders in emphatic style.
Coming back to this match, the game went down to the last over with KKR needing a run-a-ball to win to stay alive in the tournament. Arshdeep was right on top of his game and was doing his bit to keep the run flow down.
When the equation came down to 2 in 2, Rinku Singh went to the other end to ask whether Russell wanted to turn the strike to him in case he misses.
"He had told me what if the ball beats you, should we go for the run? I said for sure, I have faith in him to finish it last ball. I get goosebumps seeing him doing what he's been doing,"
As it turned out, Russell failed to get any bat on it and Rinku was almost halfway down to steal a bye. However, Russell was late to react and tried to sprint to the non-striker's end, but was eventually run out by quite some distance. This dismissal resulted in Rinku being on strike and he wasted no time in dispatching Arshdeep over deep fine leg region for a one bounce four. It was a low full toss on the pads that deserved to be put away.
During post-match presentation, Russell expressed that he was pleased to see how Rinku went about finishing the game in style.
"I wanted to finish the game off, but we have a finisher this year in Rinku,"
With that win, KKR live to fight another day. They will now host RR in their next encounter at Eden Gardens on May 11.