Haider Ali's Comical Run-Out in T20 Blast 2023 Leaves Fans in Stitches
---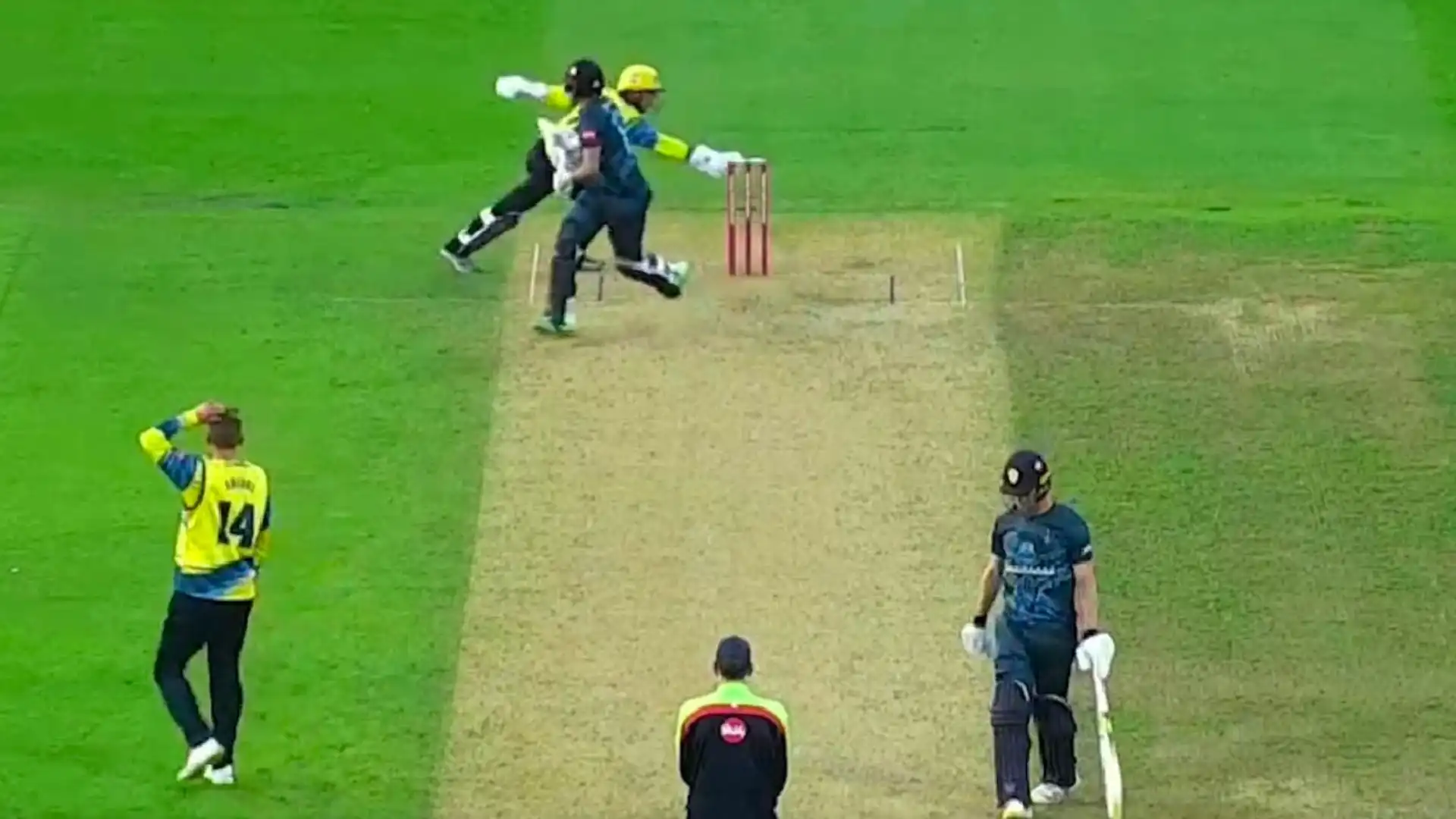 Haider Ali's run-out left fans in pieces (Twitter)
The T20 Blast 2023 encounter between Warwickshire and Derbyshire witnessed a truly bizarre run-out involving the talented Pakistani prodigy, Haider Ali. The game unfolded with an air of intrigue and amusement, leaving spectators both laughing and bewildered at the events that transpired.
Haider Ali's run-out divides opinions
Derbyshire batter, Haider Ali, found himself in the middle, alongside Luis Reece in their pursuit of chasing a daunting target of 204 set by Warwickshire. The dynamic duo had seamlessly constructed a solid foundation, stitching 50 runs off a mere 33 deliveries. However, it was at this fortuitous point that their partnership was prematurely interrupted, in a manner best described as ridiculous.
Haider Ali, charged forth in a moment of ill-fated exuberance and swung his bat mightily at the delivery from the Danny Briggs, only to find himself deceived by the deceptive flight of the ball. The miss prompted an appeal by the wicketkeeper Alex Davies, but destiny seemed to be in Ali's favour, as he managed to reach the safety of the crease, albeit narrowly, evading the clutches of the dislodged bails.
However, fate had other plans for the young Pakistani sensation, as he unknowingly strode outside of the crease looking for a run. With his attention diverted, the right-hander was caught unawares as the wicketkeeper seized the opportunity to make amends for his previous fumble.
Davies swiftly regathered the ball and dislodged the bails for the second time. The ensuing confusion and deliberation amongst the officials highlighted the perplexing nature of the dismissal, with speculation surrounding whether it should be categorized as a run-out or a stumping.
Here's Haider Ali's run-out video
Haider Ali, understandably irritated by the decision, looked at the umpire in disbelief and exchanged bemused glances with his partner, Reece. Unfortunately, Ali's valiant effort came to an end, departing the field after scoring 48 off 33 deliveries.
Nevertheless, Derbyshire refused to be deterred by Ali's unfortunate dismissal. The side rallied together, eventually emerging victorious by a six-wicket margin with three balls to spare.
Skipper Leus du Plooy blazed through the opposition's bowling attack, amassing a breath-taking 67 runs off an astonishing 25 deliveries. Accompanying du Plooy's heroics was Luis Reece, whose composed innings of 57 runs off 38 balls further solidified Derbyshire's pursuit of victory.