[Watch] Stuart Broad Traps Usman Khawaja With A Peach Of A Delivery To Mark His 150th Ashes Wicket
---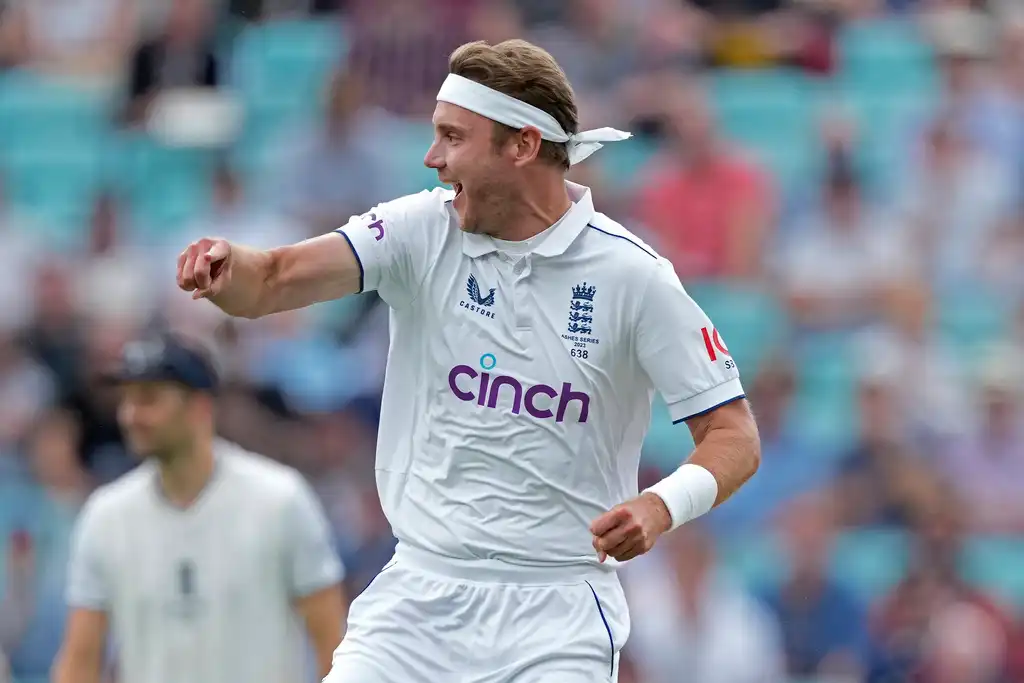 Stuart Broad celebrates after taking a wicket (AP Photo)
Stuart Broad has been the talk of the town in Ashes 2023 with his eye-catching performances and has created lot of records in this series, including 600 Test wickets. Now in the final Test at the Oval, he has added another feather to his cap by bagging 150 Test wickets against Australia (in Ashes).
The wicket came in the 52nd over of Australia's first innings on day 2 when Broad trapped a set Usman Khawaja in front with a beautiful delivery. It was a fullish delivery, angling into middle and leg from 'round the wicket. Usman Khawaja who was batting on 47 tried to defend it without coming forward. He missed the ball though and got hit on the pad which led to a big appeal from Broad. The umpire raised his finger and though Khawaja took the DRS, Ball Tracking showed three reds which meant that Broad is the third man now in Ashes cricket to take 150 or more wickets.
He is the first Englishman though as Warner leads the pack with 195 wickets and Glenn McGrath is second in the list with 157 wickets.
Broad soon got the wicket of Head too and at the time of writing, Australia are 131-4 at the end of 56 overs with Mitchell Marsh and Steve Smith at the crease.