[Watch] Simon Harmer Gets Runout After Shocking Collision With Bowler In T20 Blast Quarter-Final
---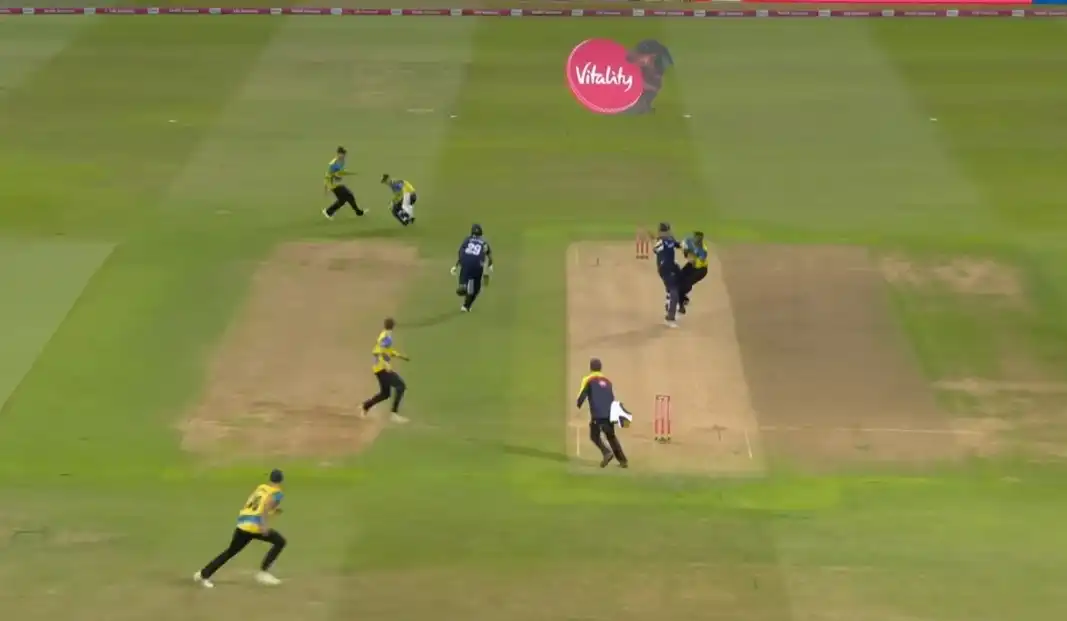 Simon Harmer attempts a run against Bears (Screengrab from YouTube)
Essex Eagles trumped over Birmingham Bears in a thrilling T20 Blast 2023 quarter-final in Birmingham. However, the Eagles almost bottled away an easy run-chase courtesy of a mid-pitch collision in the penultimate over of the match.
Essex, in pursuit of 168, reached 162 with seven balls still intact in the game. Just when captain Simon Harmer threatened to finish off the contest with time to spare, he was run out under controversial circumstances by the home side.
Harmer runout by rival skipper Davies in controversial manner
Essex Eagles captain Simon Harmer was batting at 19 from just 14 balls, when his side reached within a striking distance of their target. Batting with the tail, the all-rounder tried sneaking in a single to retain strike for the final over. However, he ended up mistiming the ball, which was later gathered by Bears captain Alex Davies behind the stumps.
Harmer, in a bid to complete the run, collided with Bears bowler Dominic Drakes and lost his follow-through. The well-set batter was subsequently run out by Davies, with Bears disregarding the collision during the nerve-wrecking moments of the quarter-final.
To watch Simon Harmer's runout video, click here
Notably, the Eagles still managed to overcome the loss of their skipper to secure a dramatic two-wicket win in the penultimate ball of the match.
The win granted them access to the next round of the T20 Blast 2023 season, as they will now play the semi-final at Birmingham's Edgbaston Stadium on July 15.