Kedar Jadhav, Krishnappa Gowtham among top-performers on Day 1 of Ranji Trophy's Round 7
---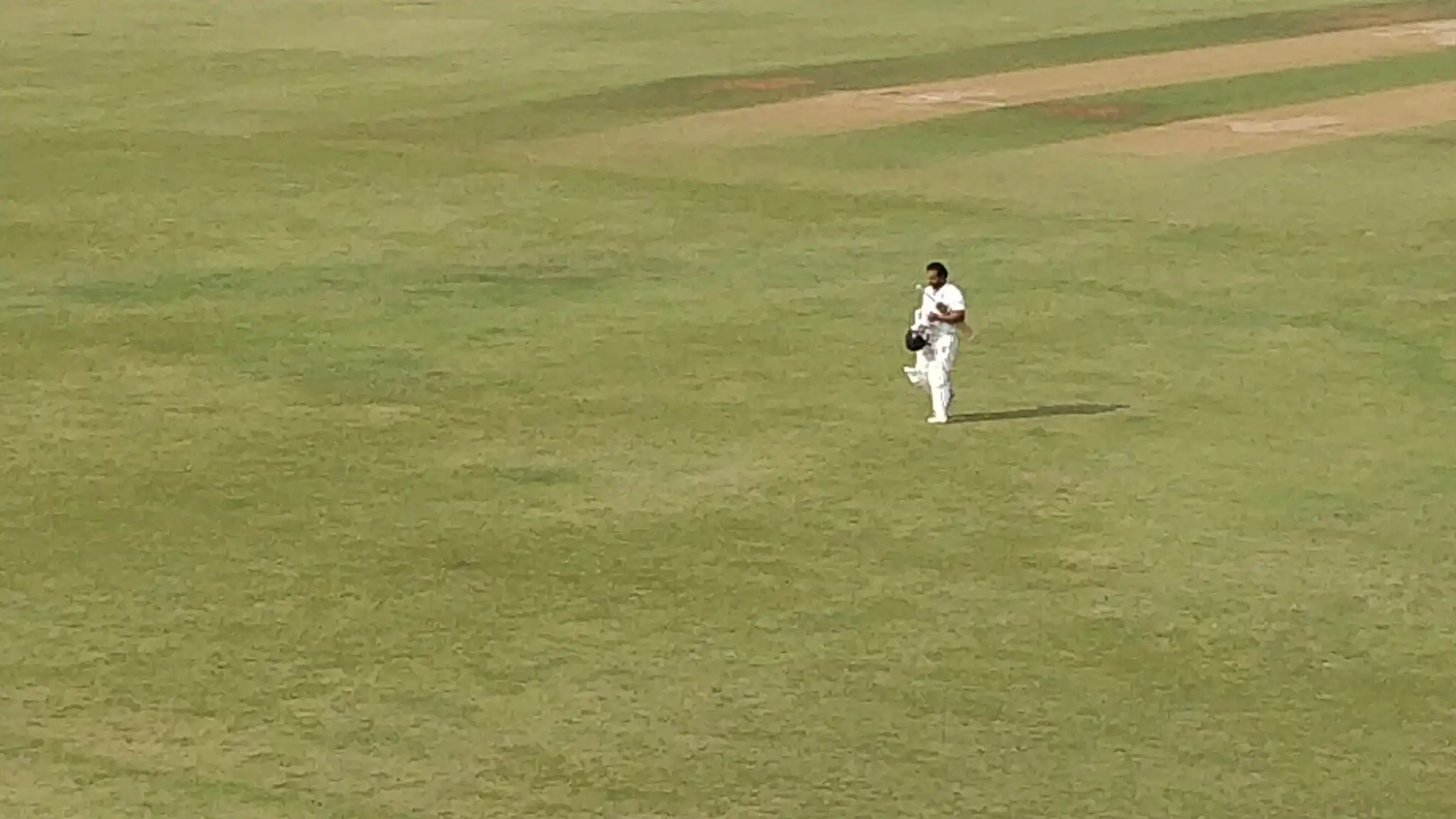 Kedar Jadhav scored a century (Source: Twitter/@ShayanAcharya)
As the Round 7 of the 2022-23 Ranji Trophy commenced on Tuesday (January 24), there was no lack of adroitness as many performers made a striking impression.
---
Jadhav's century pulls Maharashtra out of trouble
After opting to bowl first, Mumbai were all over Maharashtra as the former lost two early wickets in the morning session of the day.
However, Kedhar Jadhav was a force to reckon with as his second ton of the season spared his side's blushes. His 168-ball 128 knock included a 100-run plus partnership with Siddhesh Veer for the third wicket.
While Maharashtra were again in a spot of bother of losing two successive wickets, he struck an 86-run stand with Azim Kazi to bring the innings back on track.
---
Gowtham ravages Jharkhand
Jharkhand were made to rethink about their decision at the toss as Krishnappa Gowtham made a mockery of their batting line-up.
Karnataka's Gowtham forced Jharkhand into a hole as his four-for drained them away. The off-spinner claimed the scalps of Aryaman Sen, Kumar Suraj, Virat Singh and Saurabh Tiwary as Karnataka got bowled for 164 runs.
---
Solanki, Rathva pairs to annihilate Nagaland
70/4 read the score when Baroda's Vishnu Solanki (161*) and Ninad Rathva (143) joined hands. The duo retorted well with their 127-run partnership as Nagaland searched for the fifth wicket till the 66th over.
While Solanki and Rathva brought up their respective centuries, the latter was outdone by Tahmeed Rahman. Baroda ended the day at 420/5.
---
Dogra plays resurrection act
Reduced to 19/3, Puducherry seemed down and out. However, Paras Dogra had the other plans in mind as his 117* runs powered his team back into the match.
Dogra at first with Jay Pande took Puducherry past the 100-run total. After Pande's dismissal, he received support from Arun Karthik as the two batters finished unbeaten with their side at 253/4 after the first day's play.
---
Sudha grabs five wickets to nail down Haryana
In the Uttarakhand-Haryana clash, Avneesh Sudha tangled the opposition into a web as his five-wicket haul washed them away.
Out of the Haryana's six wickets that fell on Day 1, Sudha took five. Haryana was at 158/6 at the close of play.
---
Read more: BBL 12, Hurricanes vs Heat: Preview, Prediction and Fantasy Tips