IPL 2023 Live Blog | GT vs RR, Match 23 | Tweets, Videos and More
---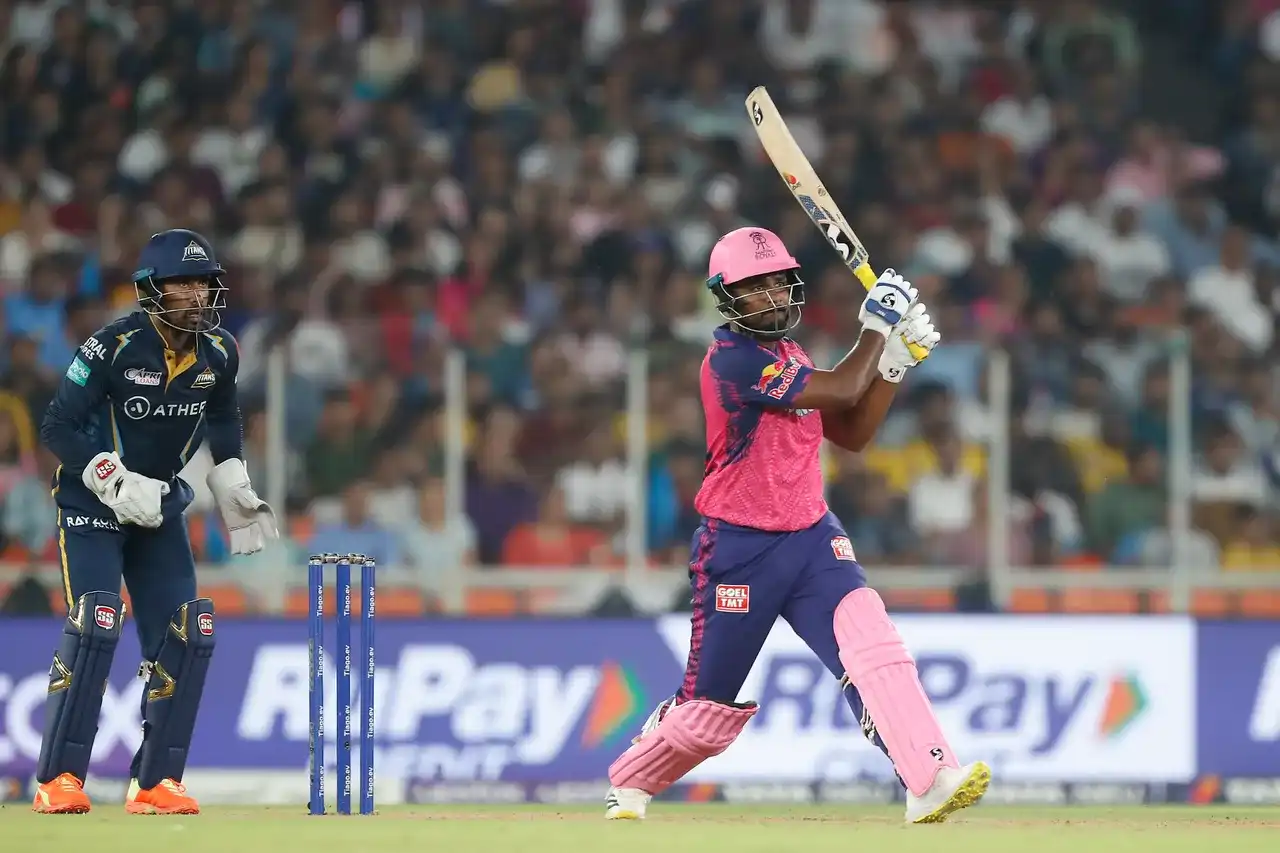 Rajasthan Royals won by three wickets (Source: iplt20.com)
That's it for today. We will be back tomorrow with another live blog. Stay tuned to OneCricket.
11:10 PM | Rajasthan Royals have pulled off a heist. They were in 4-2 in three overs and chasing 178 runs looked an impossible task.
However, the likes of Sanju Samson and Shimron Hetmyer with cameos of Dhruv Jurel and Ravichandran Ashwin helped RR achieve the target. Samson's 60-run knock that included three consecutive sixes off Rashid Khan brought Rajasthan back in the match, while Hetmyer with his unbeaten fifty finished off the game in his side's favour.
Rajasthan Royals won by three wickets.
Hetmyer completes his fifty on 25 deliveries. And gets the job done for his team on the next ball. He smashes a maximum as Rajasthan Royals win by three wickets in 19.2 overs.
Aayush: RR need seven runs off six deliveries with three wickets in hand. Noor Ahmad will bowl the over.
Trent Boult is out in the centre.
Ravichandran Ashwin walks out to bat and he scores a first-ball boundary. Oh WOW, he now takes on a short delivery and pulls the ball away for a six. And he gets dismissed on the following delivery. The drama continues...
Jurel connects one well and deposits the ball for a maximum. Then, holes at fine leg as Shami brings GT back in the match.
Pressure was piling up but Hetmyer gets one away to the boundary. Slams a six over long-on to bring the equation down to 25 off 13 deliveries.
10:54 PM | Third-umpire checks for a run-out. It's not-out.
Misfield and it's another four for Jurel.
10:50 PM | Umpire signals for a strategic break.
Aayush: Jurel starts off his innings with a boundary. Hetmyer betters the over with a gigantic hit and RR now need 44 off 24 balls.
10:46 PM | GT challenge umpire's no-ball call. The on-field decision stays.
A no-ball by Alzarri and it's a maximum as well. Hetmyer moves to 28 off 16.
Dhruv Jurel is RR's no.7.
Six, Four and Out!!! Maiden IPL wicket for Noor Ahmad. And that too of Sanju Samson. Again it was in the arc of the batter but he mishits it. Miller, who was at long-off charges in and completes the catch.
Sanju Samson hits the chinaman for a biggie and the partnership between him and Hetmyer reaches 50-run mark.
Fifty up for Samson. He brings up the milestone in only 29 deliveries.
GT bring Noor Ahmad in to the attack. This is his first IPL match.
Six!!!! A bit full and Hetmyer whips the ball away over the deep square-leg fielder. Now, he dispatches a full-toss for a one-bounce boundary. 15 runs come off the over.
Aayush: GT need 92 runs in 42 deliveries. The ongoing partnership between Samson and Hetmyer is very vital to their chances.
Samson is teeing off and that too versus Rashid. Three back-back-sixes for the former.
Noor Ahmad comes in as GT's Impact Player. He replaces Shubman Gill.
Shimron Hetmyer is out in the middle.
Rashid takes his second wicket of the match in the form of Riyan Parag. The batter decides to attack the leggie but perishes while doing so.
Mohit Sharma will bowl the 10th over.
Riyan Parag walks out to bat.
Padikkal fails to pick the googly. Throw in a big heave at it. The ball lobs in the air and is taken by the short third-man fielder. Rashid claims the wicket.
Rashid Khan comes in to the attack.
Time-out!
Hold that pose Samson!!! Full delivery by Hardik. The RR captain leans into a drive a gathers a four.
10:04 PM | GT have taken a review for an lbw. Wickets missing and it's not-out.
A bit short by Alzarri and Samson pounces on it. Plays a pull and sends the ball over the deep square-leg boundary. Padikkal follows up with a sumptous drive the ball bounces just before the boundary.
Alzarri Jospeh is the new bowler.
Aayush: Powerplay is done and RR are 26/2.
Width on offer and Padikkal drives the ball uppishly. Clears the boundary with utmost ease.
Dropped!!! Padikkal goes hard at the ball. Edges it to slip but Shubman puts the catch down.
That's some shot by Padikkal. Shami bowls on the pads and the southpaw elegantly flicks the ball for a six.
Room given and Samson times the ball to perfection. Second four of the over for RR.
On the pads and Padikkal flicks the ball to score the first boundary of the innings in the fourth over.
Sanju Samson is in at no.4.
Bowled!!! Buttler bags a rare duck. An inswinger. The Englishman misses it all-together as the ball hits the stumps.
Devdutt Padikkal is the new batter.
Hardik strikes in his first over. An away seamer pokes an outside edge off Jaiswal's bat and he gets taken at slips.
Hardik Pandya will bowl from the other end.
9:24 PM | The players have walked back to the field. Yashasvi Jaiswal and Jos Buttler are the openers for Rajasthan Royals. Mohammad Shami will bowl the first over of the innings for Gujarat Titans.
9:12 PM | After Gujarat Titans lost two earl wickets, Shubman Gill and Hardik Pandya took the bull by its horns. However, from the moment the latter got dismissed, runs dried up.
While it looked as if the Titans could end anywhere around 165, the slog over fireworks by David Miller and Abhinav Manohar took them to 177/7.
As for Rajasthan Royals, Sandeep Sharma emerged as the pick of the bowlers as he claimed two wickets while conceding just 25 runs in four overs.
Gujarat Titans finish the innings at 177/7.
Alzarri Joseph walks out to the centre.
Rashid Khan gets run-out by a millimetre. The call could have gone either way but the third-umpire adjudges it out.
9:07 PM | Umpires are checking for a run-out. It's out.
Rashid Khan comes out to the middle.
And Miller is out. He had no choice but to slog and gets caught out in the process. GT are 175/6 with two deliveries remaining in the innings.
Two consecutive fours for Miller and he is one hit away from a half-century.
Rahul Tewatia is GT's no.7.
Manohar's cameo comes to an end. He goes for another aerial shot. Could only top-edge the ball in the the air around the 30-year-circle and gets taken at point.
Miller finds the gap at deep mid-wicket and it's a four. Manohar goes one notch up and has launched one into the stands.
Manohar finally shows signs of progression. Clears the long-on boundary. And now goes on the other side as the ball flies over long-off. Back-to-back sixes for him. Boult ends his spell with the figures of 1-46.
8:53 PM | Devdutt Padikkal is subbed in for Yuzvendra Chahal. The former is RR's Impact Player.
Miller breaks the shackles and hit a Chahal delivery over the deel mid-wicket boundary for a maximum.
Aayush: GT are 125/4 at the end of the 16th. At one stage, a total of 190 looked easy to attain but from here, even 170 will be tough to reach.
Abhinav Manohar comes out to bat.
8:42 PM | Umpire signals for a strategic break.
Gill departs for a 34-ball 45. He tries to het underneath a full delivery but fails while doing so and is caught at long-off. Sandeep Sharma provides the breakthrough.
Even Buttler's superman effort could not stop a straight six. A boundary after almost five overs for GT and it's Miller, who is doing the job.
Miller hits a full-delivery straight back at Zampa but the spinner spills a chance on his own bowling.
8:25 PM | Umpires are checking for a bump ball. It's not-out.
David Miller is in at no.5.
Hardik holes out at the extra-cover region. Targets the leg-side boundary. Chahal deceives him with a leg-break that induces a top edge.
Aayush: At the halfway mark, GT's score reads 88/2.
50-run partnership between Shubman Gill and Hardik Pandya.
Hardik has come out with positive intent. Just when the runs look to have dried up, he takes on Boult and buys himself and his team a boundary.
Yuzvendra Chahal comes in to the attack.
Time-out!
Gill again goes down town and it's a biggie. Third boundary off Ashwin's over and GT moves to 72/2 in eight overs.
Gill picks a carrom delivery early and plays an uppish drive that gets him a boundary. Hardik too is throwing caution to the wind as the ball runs away for a four via an outside edge.
Hardik Pandya gives half volleys full monty and gets going with a six and a four in the start of his innings. Adam Zampa put under pressure here.
Ravichandran Ashwin bowls his first over concedes 10 runs off it, including a boundary. GT are 42/2 at the end of the powerplay.
Hardik Pandya is the new batter
What's that? Shubman Gill and Sai Sudharsan set for a run but the latter fails to complete it before the wicket-keeper dislodges the bails.
7:54 PM | An umpire's review for run-out. It's out.
Adam Zampa gets the ball. He comes in the Powerplay!
Arjun: Uff! How can this guy look so good with his drives? He will surely become one of the top drivers of the cricket ball in the coming times. Sai Sudharsan has also smacked a couple of boundaries in the game, but Gill's cover drive was just something else.
First boundary of the match!! Saha gets a half-volley on the boots, and he flicks it to the deep square leg boundary in a blink of an eye. Wait what? Boult sends him back on the next ball? Indeed, he does.. Saha tries flicking him yet again, but he skies the ball in the air. Sanju comes underneath it, Hetmyer is also there, and they have a collision, and it pops off their hands... but Boult completes the catch as well.
Onto the action now!! In walk players. Gill-Saha combo to open for GT, Boult will bowl the first over of the match.
Arjun: Yeah, of course. I knew that was coming, man. You will obviously back GT, but I won't second you here, Dasgupta. For me, Rajasthan have an edge. They are in lethal form; they have been the team to beat in IPL 2023. GT, too, are in the top-three, but the Royals have been so clinical.
Dasgupta: Before I switch to the news, I have a quick question for you, lad. Who will have the upper hand in this contest, Arjun? With GT having 3-nil over RR, I am backing Hardik's boys tonight.
Arjun: The Impact Player Subsitutes are still unclear. Okay, we have got GT's subs now. Josh Little is there, Jayant Yadav & KS Bharat are there. The two remaining are Noor Ahmad and Dasun Shanaka. RR are opted for Devdutt Padikkal, Joe Root, Murugan Ashwin, Navdeep Saini and Donovan Ferreira.
Starting XI
Rajasthan Royals Playing XI
Jos Buttler, Yashasvi Jaiswal, Sanju Samson (c and wk), Shimron Hetmyer, Devdutt Padikkal, Dhruv Jurel, Kuldeep Sen, Ravichandran Ashwin, Yuzvendra Chahal, Sandeep Sharma, Trent Boult
Gujarat Titans Playing XI
Wriddhiman Saha (wk), Shubman Gill, B Sai Sudharsan, Hardik Pandya (c), David Miller, Abhinav Manohar, Rahul Tewatia, Rashid Khan, Alzarri Joseph, Mohammad Shami, Mohit Sharma
Toss Time!!
Rajasthan have won the toss and they will bat first. Jason Holder has been seated out, Trent Boult comes in - Sanju Samson confirms. Abhinav Manohar has been included in GT's Starting XI, Vijay Shankar is down flu.
The finalists of last season's final will meet yet again. In IPL 2022, the champions Gujarat Titans outclassed the Rajasthan Royals thrice, twice in the league phase and then in the big-ticket match at Ahmedabad.
Another clash awaits us as GT welcomes RR at their home ground of Ahmedabad.
Welcome to OneCricket's live blog of the 23rd match in the 16th edition of the Indian Premier League (IPL 2023). This is Arjun Bhalla and I will be bringing you all the happenings from this clash between the finalists of the last season, Gujarat Titans (GT) and Rajasthan Royals (RR) set to be played at the Narendra Modi Stadium in Ahmedabad.