[Watch] Sri Lankan Commentator Makes 'Sexist' Remark During Women's T20I Match
---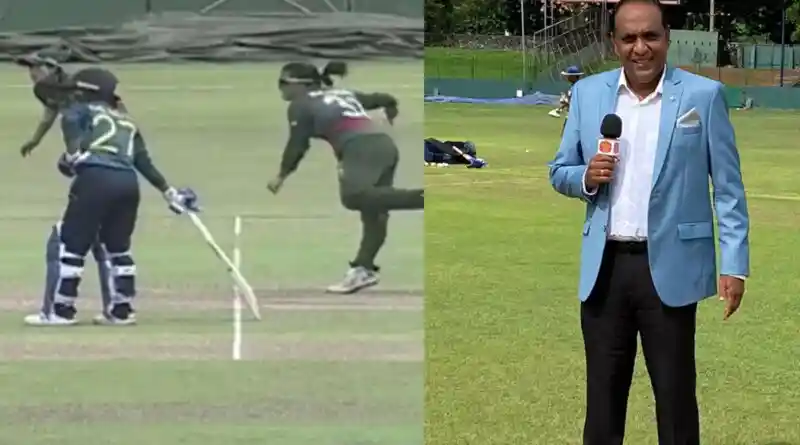 Roshan Abeysinghe made a sexist remark on Bangladesh player [Twitter]

A 'sexist' remark by a Sri Lankan commentator has triggered a big controversy on social media. During a Women's T20I match between Sri Lanka and Bangladesh, commentator Roshan Abeysinghe criticised a Bangladesh spinner after she stepped over the line.
However, his comments didn't go well with the fans who lambasted Abeysinghe for his sexist remarks on a female cricketer.
The incident occurred in the 13th over of the Sri Lankan innings. Spinner Nahida Akter overstepped and the umpire called it a no-ball. Abeysinghe made a critical assessment on live commentary that stirred social media.
Here's the video
While criticising Akter, Abeysinghe was shocked that how can a women overstep the crease.
Here's what he said:
"It's a no-ball as well. This is unpardonable. Unpardonable on two counts: one, a spinner; second thing, a lady… a women's cricketer. I don't think they have big strides, so in that context, very very surprised how she could overstep," said Abeysinghe
However, when the replays were showed, it was clear that Akhter didn't overstep, but her foot touched the bails which was the reason for the no-ball call.
"Oh, she's dislodging the bails, that is the reason, because like I told you, it can never be a stride," Abeysinghe added.
After the controversial remarks, his comments went viral on social media, and the commentator had to eventually apologise. The viral video was posted by a journalist - Georgie Heath, and Abeysinghe offered his apology to her.
"Hi Georgie let me extend an unconditional apology if you or anyone else were offended. The comments were never meant to be insulting, but was made through a pure cricketing angle innocently. Still I am willing say sorry and stand corrected. Once again my apologies sincerely," the commentator tweeted.