The Table Doesn't Lie. England Must Face Up To Its Unpalatable Truth
---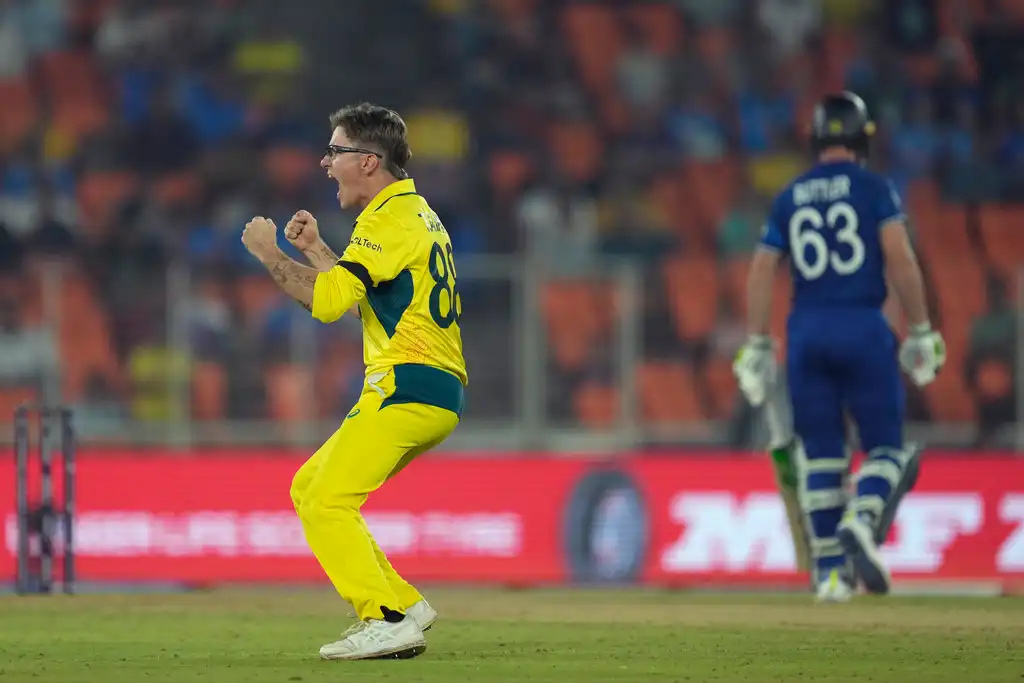 World Cup 2023 | Australia floored England in Ahmedabad (AP Photo)
To use a cliché more associated with football than cricket, "the table doesn't lie". It's most typically used when a hapless, frustrated manager faces the press after yet another defeat and says, "We know we are better than our league position". Patently, they are not, though. The longer a season progresses, the truer the cliché becomes.
For England in this World Cup, with the finale scintilla of misguided hope now extinguished by their old enemy, Australia, the table really does not lie. With seven from nine group games completed, they remain rock bottom with six defeats, still beneath Bangladesh, the only team against whom they have managed a win. If this World Cup were an English football season, we would be in late April, thirty games in and for relegation-threatened teams at the bottom of the league, any protestations of being better than their position, laughed are out of court. These days, where money talks and boardroom patience spreads thinner than butter on boarding house bread, the team manager would be thanked for his services and shown the door.
This Cricket World Cup has its own proxy for relegation. The bottom two teams are excluded from participation in the Champions Trophy. A bit like a retired business class flier making a later life vacation trip, there will be no access to the business lounge in which they once picked at finger sandwiches and quaffed free wine. The past means nothing. The present reality must be faced.
One feature of England's demise in this tournament has been how Jos Buttler and the players have been thrust to the fore, crestfallen and demoralised by defeat after defeat. Less often have we seen Matthew Mott, about whom serious questions will be asked behind the scenes. Where Brendon McCullum came in to resurrect England's rock-bottom Test fortunes with positivity and self-belief, Mathew Mott's brief for England's white-ball cricket was, in theory, the simpler one of keeping a well-tuned engine humming. That engine is now choking and spluttering, and the inability of the mechanics responsible for its performance to explain where the thrust and power have gone is deeply worrying.
Since lifting the World T20 trophy at the MCG a year ago, England have won just two from seven of their T20I encounters and 8 from 21 ODIs. That is the bottom of the table form in almost any sport. A deeper look at those statistics reveals that away form is nothing short of risible. Across ODIs and T20Is away or on neutral territory, 4 wins from a possible 19 is the sorry tale. A 21% win rate is simply not the form of double format champions. Excuses have been offered, some of which have been reasonable enough. After the 3 -0 defeat to Australia in a 'meaningless' ODI series tacked on to the end of the World T20, Jos Buttler claimed he wasn't bothered, and we all sympathised. Why did they even have to play that series at all? However, that sympathy has evaporated, and the reservoir of good will drained dry.
Since that World T20 triumph, the writing has been on the wall for England's white ball cricket. The success at the Test level was achieved perhaps at the cost of acceptable results in the other formats. Some may argue that has been a price worth paying, and as a Test cricket devotee, I might even count myself amongst them. However, instantly turning on form when the games become 'more important' is not easy to do. England had hoped they could do that in India by flicking the switch back and resetting to where they were post-2019. Far from being successful, the settings on the time machine were wrongly set back to 2015, before the Morgan revolution.
Yesterday against Australia, England bowled and fielded with heart. The bowlers did their job, most notably Chris Woakes and contract exile David Willey. Peak performance England would have made light work of a sub-300 total. But this team is shot of any belief and confidence. As sure as night follows day, their batting fell short, although not as woefully as it had in previous games. An Australian team, restricted in selection by Marsh's personal issues and Maxwell's golf buggy shenanigans, never really looked like buckling from the moment Bairstow edged Starc down the leg on the very first ball of their reply. Dawid Malan, Moeen Ali and Ben Stokes, dodgy preoperative knee and all, fought well, but all fell short of the 71 by Marnus Labuschagne that proved to be the backbone of Australia's 286.
Little epitomises the hole into which England have fallen more than Joe Root's powerplay form. As Matt Roller has pointed out, in the 2019 World Cup, Root batted 7 times in the first Powerplay, was out once and averaged 115. In the 18 times he has been called on to bat in the first Powerplay since then, he has been out 11 times and averages 5.63.
Further down the order, Stokes, Buttler and Moeen Ali all perished, looking to take down Adam Zampa. In their pomp, that certainly was a rich source of runs. But the trio's uncertainty was ruthlessly exposed by the new, improved 2023 model Zampa. His stranglehold on England cost just 21 in his ten overs and removed those three wickets, serving to illustrate that where England have declined, others have upped their game. Not just Australia but all teams England have faced.
And there is the harsh reality. Where England have regressed, others have improved. The dramatic extent to which the scales have tipped is a shock to the system, and this has been a watershed World Cup for them. As Sam Cooke sang, "A change is gonna come". It must inevitably come for England regardless of the results in their last two matches against Netherlands and Pakistan.