Gubby Allen Unlikely To Be On The Mind Of Pat Cummins As Ben Stokes Looks To Emulate Bradman
---
I was lucky enough to live in St. John's Wood for many years. It is a wonderful area and Abbey Road, leafy Regents Park or the Regents Canal are delightful for a scenic and relaxing stroll. The few yards of ground bang in the middle of the Lord's during an Ashes Test, as chosen by Jonny Bairstow for his perambulation, are almost certainly less ideal.
The fall-out from that Bairstow amble has drawn battle lines not just between the sides but across countries and generations. Even prime ministers, never known to miss a popular bandwagon to jump on, have weighed in. The Ashes polarises views and exacerbates national myopia. To the English Carey and Cummins are the cads. Bairstow the wronged and helpless innocent. For Australians, it was simply playing by the rules.
Where Bairstow absent-mindedly walked, Stuart Broad, they will counter famously didn't. Where was the spirit of cricket then? Inevitably bodyline emerges from Australians to be countered by sandpaper, not to mention the tears and tantrums that followed. Both sides, though they may not realise it, will agree that Lords and the MCC were the biggest losers as members displayed the very worst of privileged petulance.
Looking forward, rather than back, England must ask themselves if Bairstow's wicket wander was born of a general lack of focus and perhaps even a sense that normal rules don't apply to us. Ben Stokes alone led the way in focused determination.
England lost at Edgbaston not because of a bold declaration but because of a litany of missed opportunities, and alas, Bairstow was unfortunate to be involved in a number of those.
At Lords, they lost not because of one incident. Arguably it fired up the righteous indignation in their captain to haul them tantalisingly close to a victory they would not have deserved.
To every Gubby Allen, there's a Don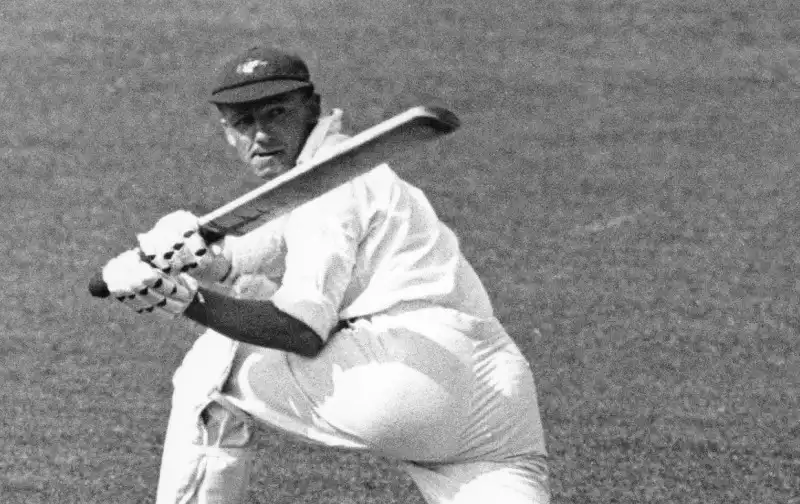 Australian great - Sir Don Bradman (Twitter)
England must look much deeper and more critically at themselves if they are to defy all odds and do something they have never done and indeed has only ever been done once before. That is to come back to win a five-Test Ashes series from losing the first two matches. It was Australia that did it in the 1936/37 series.
On their first time back on home turf in the Ashes since the infamous bodyline series, inevitably, it was Don Bradman who led his team to retain the famous urn when it seemed to be all but out of reach. Gubby Allen, a man born in Australia, conversely, was the only captain to let the Ashes slip from a seemingly unassailable position. Under the leadership of Douglas Jardine, Allen had steadfastly refused to follow orders and bowl bodyline himself in the eponymous series and remained forever its stanch critic.
Even as Bradman led from the front averaging 90 in 1936/37, almost double the comparatively meagre 56 when peppered by Larwood and Voce, Allen refused to revisit the tactic he reviled.
Ben Stokes will be desperate to emulate Bradman's turnaround, but one sense that he shares some of Allen's dogged yet principled determination. Lost opportunities when presented with the best of the conditions for both batting and bowling was what ultimately did for England at Lords.
Bowlers wasted opportunity at Lord's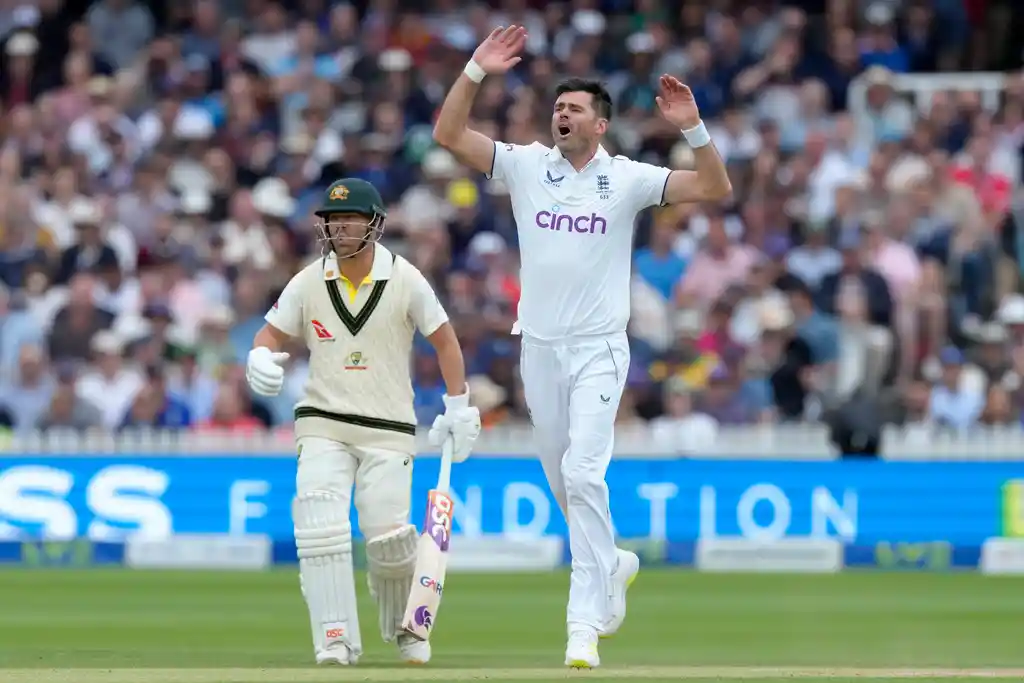 James Anderson and David Warner in frame (AP Photo)
Overhead conditions and a tinge of green can all to easily seduce captains into electing to field at Lord's, only to find that reality bites and resolute batters make hay. England lacked the firepower and, more importantly, variety to take advantage of the helpful conditions when Ben Stokes elected to field Under 300 will be in the mind of any captain putting the opposition in, and once Australia had gone well beyond that, England were already drawing on the collective mantra that anything is chasable. Against New Zealand, Pakistan and South Africa, it had been, but this Aussie side is a sizeable step up in class with both bat and ball.
An age-defying attack looked worrying toothless Lord's and this was the first Test in 11 years that England have failed to take a wicket in the first 20 overs of both innings. Lack of pace and variation with 5 right-arm seamers and the lack of a credible spin option failed against excellent batting by Australia batting and by Smith and Head particularly.
When it came to England's reply, the issues seemed to be with the brain as well as the bat for England. At 188 – 1 and Australia reduced to constant short-pitch bowling, England should have been looking at not just chasing down Australia's total but getting far enough past it to size control and dictate the terms for the remainder of the match. Yet they went collectively into lemming mode as Duckett, Pope, Root after tea on Day 3 and then both Brook and Bairstow on the morning of Day 4 played poorly judged shots at the alter of an all-out attack. In mitigation, the pitch had been two paced throughout, but many will argue that is more reason for occasional circumspection.
Duckett scored 98 & 83 at Lord's (AP Photo)
Duckett had fallen on 98, but the warning signs had repeatedly been there before he did. In a post-match interview, he bristled with indignation beneath his bucket hat and towed the party line of "that's the way we play" and "no regrets". The crestfallen face of the man who walked back to the pavilion two short of a Lord's Ashes ton told a rather different story.
And, yes, in the second innings, Jonny Bairstow may well have made a 50 or 60 that would have got England over the line, but however much the spirit of cricket is summoned to his defence, or for the prosecution Carey and Cummins, the reality is Jonny's lack of awareness showed the flip side of England's unfettered approach.
All-out attack and refusal to take a backward step are joyous to watch, but game awareness and moments of care and attention are needed when facing world-class opposition in the heat of an Ashes series. England must find a way to identify the key moments in games and adapt or moderate as well as relish the moments to be utterly fearless.
Change in mantra for Headingley
England are resolute in their commitment to principles on and off the field. Clarity and simplicity reign. All those who had hoped that with Ollie Pope now out for the series, Ben Folkes would be recalled for Headingley and Bairstow allowed to focus on leading England's rocket-fuelled batting charge have been disappointed. The return of Moeen Ali as a spinner and the inclusion of Chris Woakes maintains the continuity of the squad but means they have yet another right-arm medium pacer and a spinner, neither of whom have stellar records against Australia. Ali's wickets in Ashes Tests have come at a cost of 65, although that average is weighed down by a torrid time on the 2017 tour, but even in England, his 18 wickets have cost over 50. Woakes's bowling also looks better at home, but his Australian wickets here have still come at 39 runs each. They have also thrust Harry Brook up to 3 to replace Pope, a position that has yielded his lowest returns for Yorkshire, albeit at an earlier stage of his career. England will have the return of some genuine pace with Mark Wood at the expense of the rested Anderson, but Ali at 7 will need to show his genuine all-rounder capability if the tail is not to seem very lengthy.
England, of course, may claim to be fired up by righteous indignation following what they choose to see as Australia's abuse of the spirit of cricket at Lords. They will need to channel every ounce of that and eliminate the suicidal elements from their game if they are to summon up the type of result against the odds that Headingley has so famously provided in the past.
Australia, for their part, even shorn of the wounded Lyon, look to be both settled and just as seething from what they see as simply playing by the rules at Lords. They will channel that feeling to bolster their already high confidence and Todd Murphy looks highly capable of replacing his mentor.
The smart money is on Australia. But odd things can happen to them when England go on an unfettered charge in Yorkshire and legends have been born as a result. It will take something legendary from Stokes and England to keep the series alive going across the Pennines to Manchester.