ICC announce prize pool for upcoming T20 World Cup 2022
---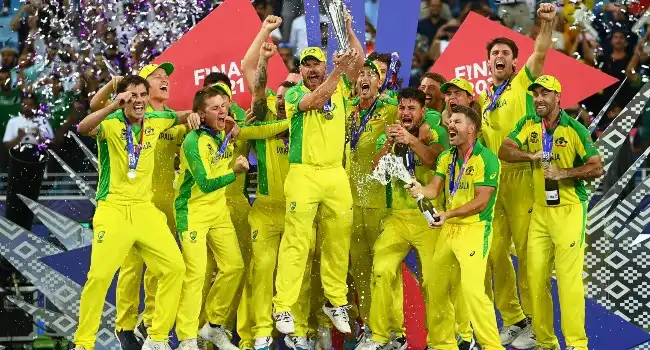 Australia are defending T20 World Cup champions [PC: Twitter]
The International Cricket Council (ICC) today unveiled the prize pool for the upcoming ICC T20 World Cup 2022, worth USD 5.6 million. The winner of the 20-overs tournament will take home a lump sum amount of USD 1.6 million, while the runner-up rakes in half the amount (0.8 million).
The 16-nation competition, which will run for 28 days from October 16 to November 13, ensures both losing semi-finalists earn USD 400,000, while the eight teams that exit from the Super 12 stage get USD 70,000 each.
Each win in at the Super 12 stage will be worth USA 40,000, much like the T20 World Cup in 2021.
A win in the first round of the tournament will be worth USD 40,000, which will be deduced from the set USD 480,000 pool.
First round gets underway from October 16, consisting of teams like Namibia, Sri Lanka, Netherlands, UAE in Group A and West Indies, Scotland, Ireland and Zimbabwe in Group B.
Eight teams — Afghanistan, Australia, Bangladesh, England, India, New Zealand, Pakistan and South Africa — have already qualified for the Super 12 stage, that commences from October 22.
ICC announces prize pool
"​The ICC announced that the winning side at the ICC Men's T20 World Cup 2022 in Melbourne on November 13 would receive prize money of USD 1.6 million, with the runners-up guaranteed half the amount."
---
Also Read: Shane Watson picks his two favourites for the T20 World Cup 2022