'We Should be Reminded Every Time...': Rohit Sharma Reminds His Men Before Do-Or-Die Clash
---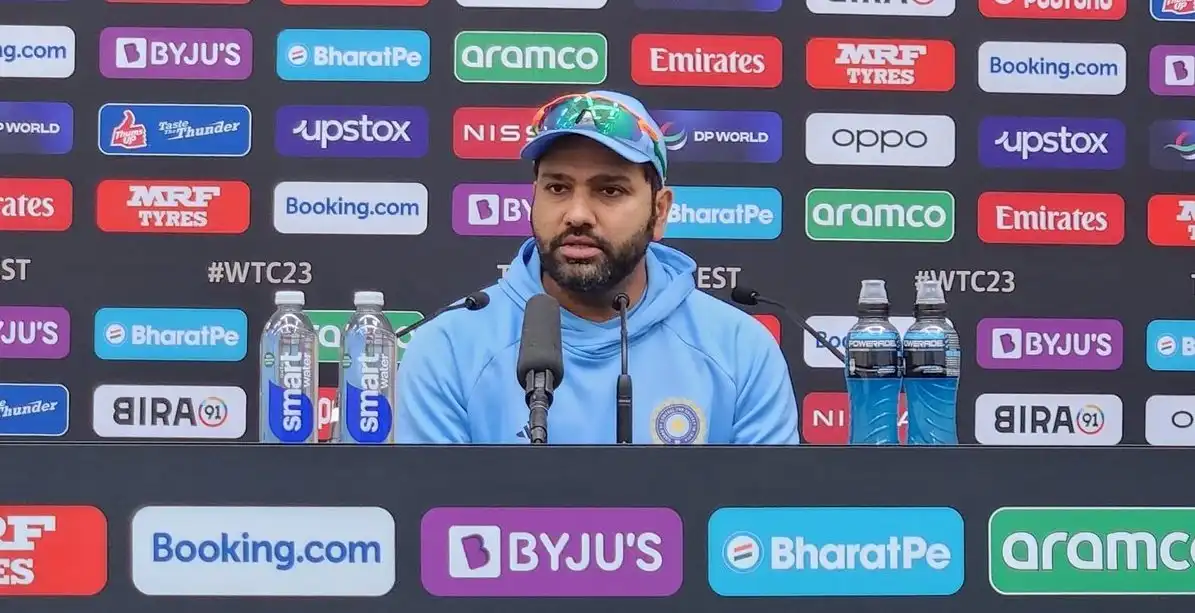 Rohit Sharma at the pre-match conference [Twitter]

The wait is almost over as the World Test Championship (WTC) final between India and Australia will start tomorrow at the iconic Kennington Oval in London.
The two teams have been sweating it hard in the nets for the past few days and have been ready for the ultimate battle that awaits them. The Australian team, led by Pat Cummins have almost announced their playing XI, with Scott Boland coming in for the injured Josh Hazlewood.
Meanwhile, the Indian team has not revealed any of their trump cards ahead of the WTC final, and both Rohit Sharma and Rahul Dravid have politely avoided questions related to the team selection for the final.
Ahead of the WTC final, Indian captain, Rohit Sharma attended the pre-match press conference, and shed the light on possible team combinatons, and the expectations that the whole nation has from the Indian team.
Here's what Rohit said about experts picking up Australia as the favourites for the WTC final.
"Experts will speak about lot of things but it will only be known after five days which team uses the conditions best and adapts best."
India have been eluded of ICC trophies for the past 10 years and Rohit was asked about the same in the press conference.
"I have been given job to take Indian cricket forward. For me it's same to win as many games and championship. It will be nice to win some titles. But we don't want to put too much pressure by thinking too much about it."
On possibility of playing Ashwin in the playing XI, Rohit stated that every player should be ready for the opportunity.
"Pitch and condition keep changing. Message for all the boys is that they should be ready. Rohit say on possibility of Ashwin in playing XI."
He further added: "We don't think about what has happened in past in ICC tournaments. Don't think we should be reminded every time."
Skipper Rohit Sharma was also asked about the red-hot form of Shubman Gill, and Rohit added that Gill is ready for the big test that awaits him tomorrow.
"Gill doesn't need any advice on what to do. He likes to bat. He got big tons in IPL. Team India's will hope he spends a lot of time in middle. He is a very confident player."
This will be India's second successive WTC final, having already played in the inaugural edition against New Zealand in 2021. The team that wins the WTC final, will become the first nation to bag all the ICC trophies in their cabinet.