From Ravindra Jadeja to Umesh Yadav : Top 5 Fielders in Current Indian Team
---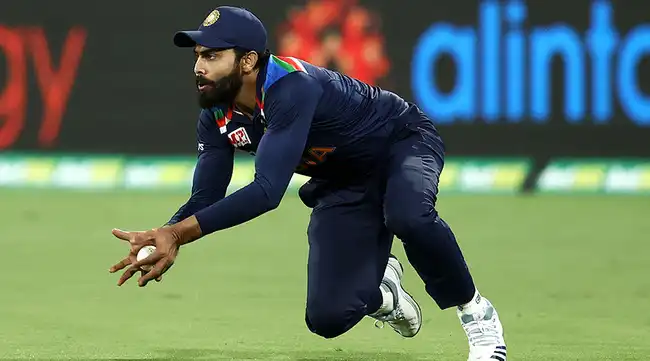 Ravindra Jadeja takes a catch [Source: Twitter]
The game of cricket comprises three departments — batting, bowling, and fielding — where one of the extremely important is the last one. The outcome of matches are dependent on a player's batting and bowling skills, however, a team's success and loss is majorly based on fielding as well, where eventually a catch, a save, or a run-out can turn tides in their favour.
Historically, the Indian cricket team has never been known for producing gun fielders, while there have been individuals like Eknath Solkar, Mohammad Azharuddin, Robin Singh, and Ajay Jadeja, who captivated audiences with their guile and athleticism, the era of good ground fielding began with the arrival of Yuvraj Singh, Mohammed Kaif and Suresh Raina.
Over the years, India's overall fielding standards have risen leaps and bounce, and currently is regarded at a top level with the likes of Australia, South Africa, and New Zealand.
In this list, let's have a look into who are India's Top 5 fielders currently.
Ravindra Jadeja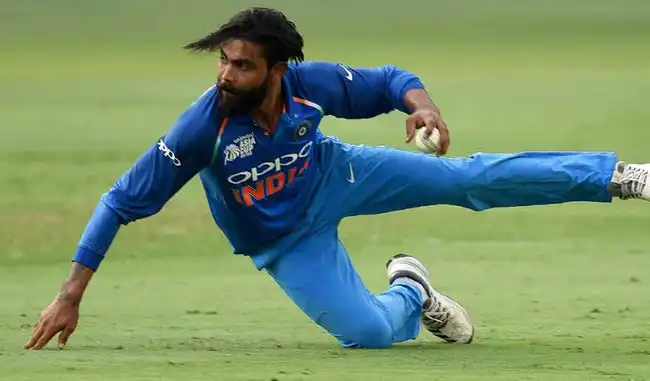 Ravindra Jadeja [Source: Twitter]
Let alone India, Ravindra Jadeja is undoubtedly one of the best fielders in world cricket. Jadeja, who started slow, developed into an amazing fielder, who is exceptional at square-leg, and brilliant inside the 30-yard circle.
A supreme athlete, the all-rounder is known for plucking catches out of thin air, and has a knack for hitting the stumps more often than not in the field from any position.
In 302 internationals, Jadeja has taken 129 catches combined across formats.
Virat Kohli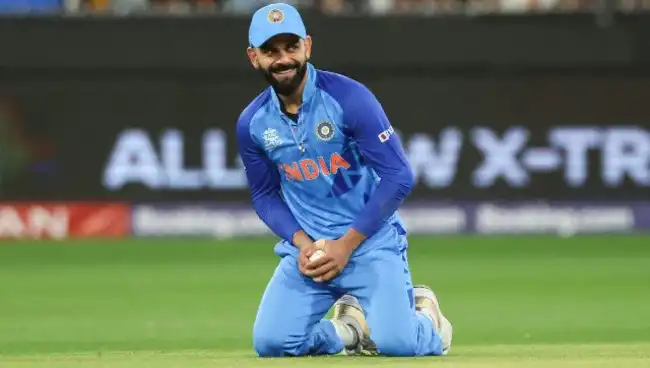 Virat Kohli [Source: Twitter]
Virat Kohli started a revolution in Indian cricket, pertaining to fitness, which has ushered in a new breed of fielders. Kohli is super agile and nimble on his feet and is a monster at the covers region.
The 34-year-old is one of the safest pairs of hands in the business and can field in any position regardless of the difficulty. However, his catching has taken a hit recently, yet remains an maverick on the field.
In 497 matches for India, Kohli has taken 300 catches between 2008 and 2023.
Sanju Samson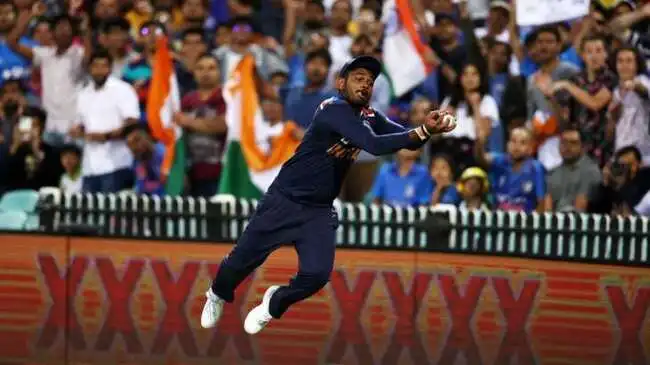 Sanju Samson [Source: Twitter]
Despite being a designated wicketkeeper, Sanju Samson is a livewire on the field. In the limited chances for India, Samson has thrown himself up, over and beyond the boundary lines, producing spectacular catches in the process.
A sharp fielder with a strong throwing arm, the 28-year-old can easily stake a claim into the squad on just his fielding capabilities as well.
In 13 T20Is, Samson has taken 8 catches in the outfield as a non-designated keeper.
Umesh Yadav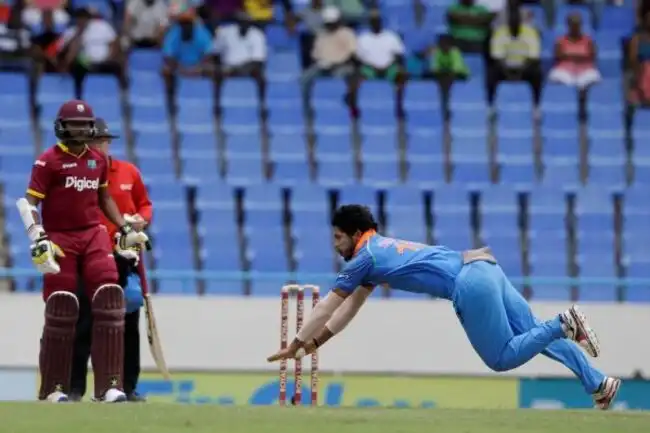 Umesh Yadav [Source: Twitter]
One of the rare breed of bowlers, Umesh Yadav's energy on the field is unfathomable. Yadav, who is an out-an-out fast bowler, is known within the Indian circuit as a top-level fielder, who puts his everything on the line, and is gifted with a bullet arm.
Not scared to dive around, the 35-year-old is often seen sliding around the boundary line, sprinting up and down, taking catches off his own bowling.
In 140 international games, Yadav has taken 44 catches across formats.
Hardik Pandya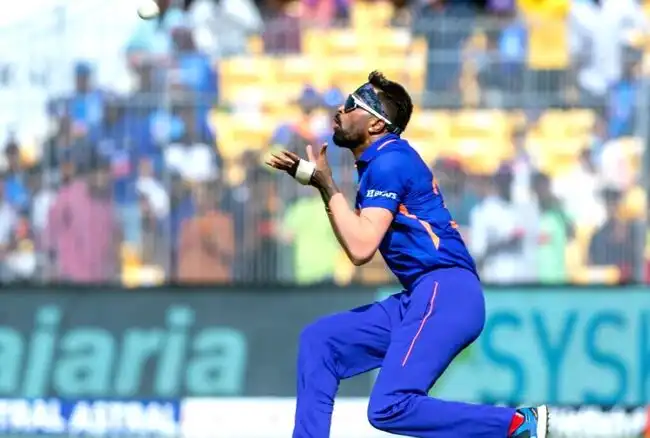 Hardik Pandya [Source: Twitter]
Already a priced commodity in cricket, Hardik Pandya's all-round skills make him cut above the rest. However, Pandya is also an brillant fielder, that only adds to his importance in the any XI.
Pandya is generally seen patrolling the cover region, where he can show off his agility and catching abilities to perfection. The all-rounder's long reach helps him while taking those diving and leaping catches as well.
In 172 matches, Pandya has taken as many as 81 catches, combined in all three formats.