#OTD in 2004: Sachin Tendulkar conquered SCG with unparalleled determination
---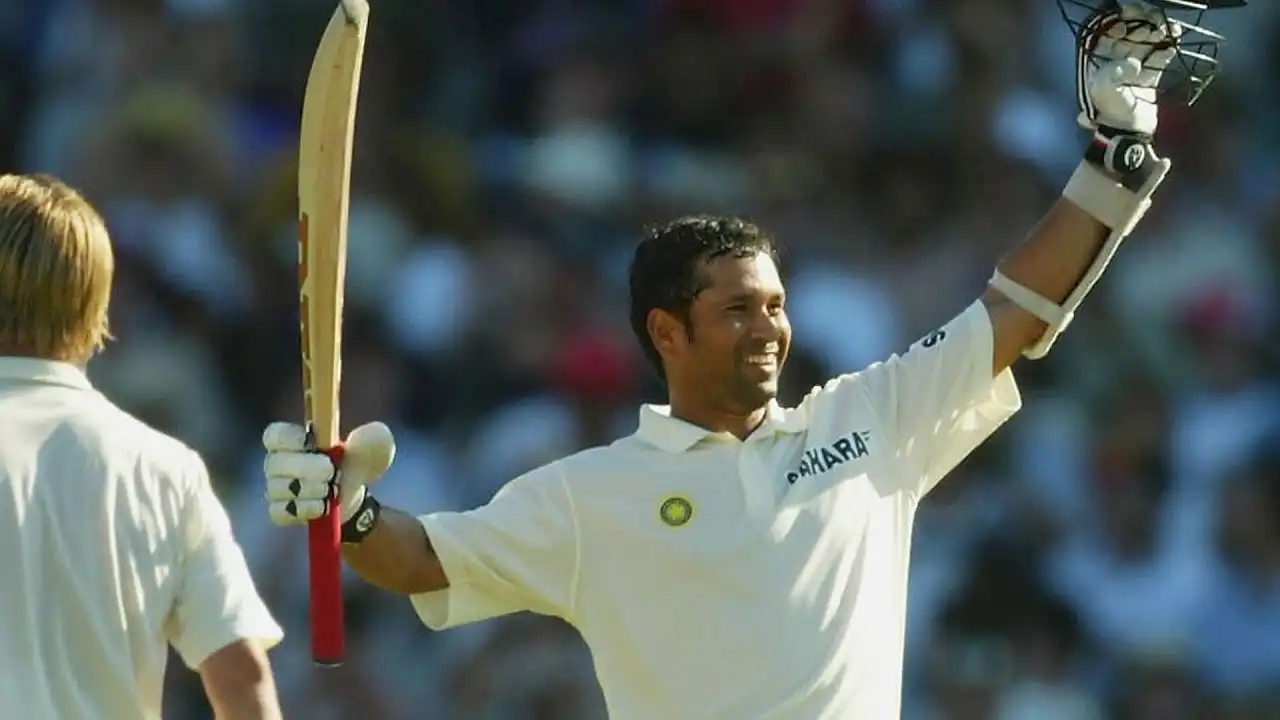 Sachin Tendulkar at SCG | Source: Twitter
"We did think for a while that he had a weakness with the ball coming back in through the gate driving on the up. We got him out a couple of times so maybe we could get him out playing the cover drive. That was our plan in Sydney, and he refused to play a cover drive and got 241 not out."
Steve Waugh, the former Australian captain, murmured while recalling the historical Sydney knock by the 'demigod' of Indian cricket. It was January 3, 2004, during the final match of what was turning out to be an epic series between two cricketing giants, when Sachin did the unthinkable and added another chapter to his bulky book.
Master Blaster Sachin Tendulkar, who used to be a nightmare for all the then top-ranked teams like Australia, Pakistan, and South Africa, was undergoing a lean patch towards the 2nd half of 2003 in Test match cricket; he'd gone 13 innings without scoring a century.
Then the famous Australia tour happened, where Indians were standing toe-to-toe with the world champions, but Tendulkar had a negligible contribution to it, with him scoring 0, 1, 37, 0 and 44 in his five Test innings on that tour.
The problem with Sachin was that he was either finding freakish ways to get out, like getting strangled down the leg side, poor decisions, or- the most frustrating- fishing outside the off-stump uncharacteristically.
After registering a golden duck in the 1st innings of the Boxing Day Test, Sachin looked good in the 2nd essay, which saw him breaking the shackles and going past the 40-run mark but just like his previous dismissals, he once again perished trying to play balls outside the off-stump.
Frustrated Sachin, who almost became a bunny of not a bowler, not a ball but of his own shot, which used to be his one of the trademarks, took up a challenge thrown at him by his brother and delivered something unrealistic, and hardly believable, at the iconic Sydney Cricket Ground.
"For me in Sydney, it wasn't planned. My brother had challenged me. He asked me that since no one can get me out, are you willing to take up this challenge with me that you are not going to get out in this match.
So, I said, okay I am accepting that challenge, no bowler is going to get me out. When I went to bat, I realised that they were bowling away from me all the time," Tendulkar told Indian Express during an interaction.
January 3, 2004 - Sachin Tendulkar decided not to play any cover drive during his stay on the crease and he did it with utmost dedication.
He completed his first-ever double ton in Australia, finishing the day on 220*. Then, he went on to score 21 more runs the next day, as India declared on 705.
More importantly, he did it without playing a cover drive, a shot that he played thousands of times before that match and continued playing afterwards, but not in Sydney in more than 10 hours of batting.
His historical double century knock had 33 boundaries studded in it but none of those were cover drives. This was a mediating inning from a giant who thrived on encountering challenges and nailing them to the hilt.
---
Also Read: BBL 12, Scorchers vs Thunder: Preview, Prediction and Fantasy Tips