[Watch] Naveen-ul-Haq Silences 'Kohli, Kohli' Chants With Rohit's Stunning Wicket
---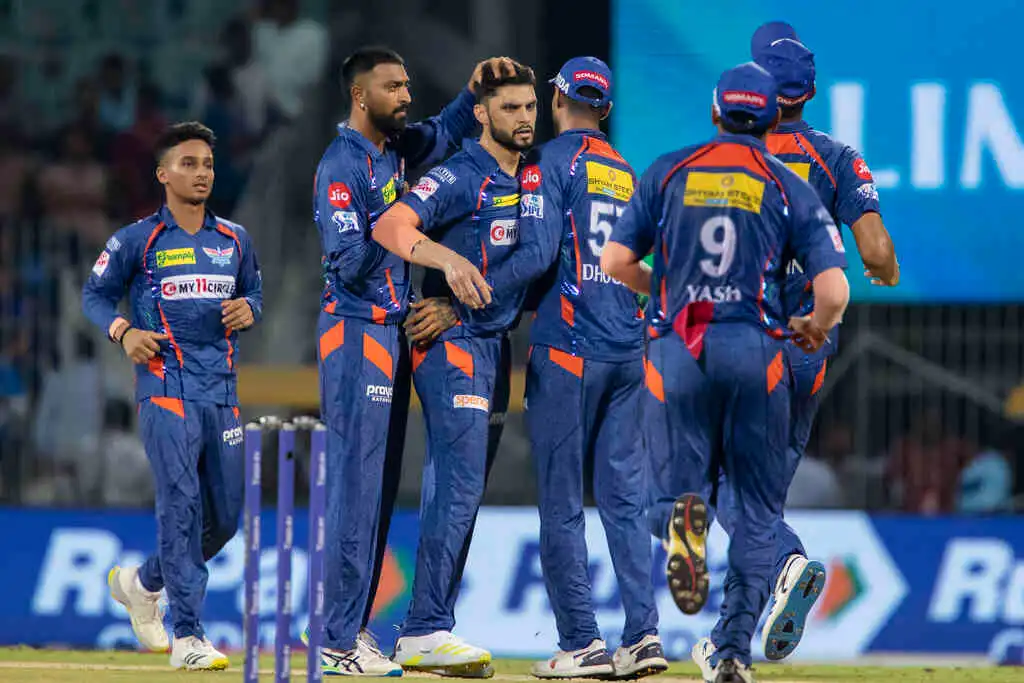 Naveen-ul-Haq celebrating with his teammates after Rohit's wicket (AP Photo)
Naveen-ul-Haq's popularity has skyrocketed since his tussle with Virat Kohli in the league stage game between LSG and RCB. He has earned a lot of negative publicity with most of the cricketing fans supporting Kohli in the battle. There have been 'Kohli, Kohli' chants wherever Naveen-ul-Haq has played this season and the mocking continued in the LSG-MI - Eliminator too.
Naveen-ul-Haq, however, has not backed away one bit and has come up with some brutal celebrations in return to his mocking whenever he does well. In the game against MI, Naveen-ul-Haq came out to bowl the fourth over of the innings and suddenly the chants of Kohli, Kohli got louder and louder at Chepauk.
Naveen-ul-Haq though gave a fitting reply to his haters as he got the big wicket of Rohit Sharma in just his second delivery. It was a short of good length delivery, around off and Sharma charged down the wicket to thump it over extra cover. However, he ended up hitting it straight to extra cover at Ayush Badoni and as soon as the catch was taken, Naveen-ul-Haq came up with a celebration that left everyone stunned and silenced the crowd chanting Kohli's name.
Naveen-ul-Haq came up with classic shut the noise celebration by covering his ears by both hands and was visibly pretty pumped up after that wicket.
It was the first wicket for LSG in the game and it ended Rohit Sharma's stay just when he was looking to put a foot on the accelerator.