Key Positives The West Indies Can Take From Tests vs India
---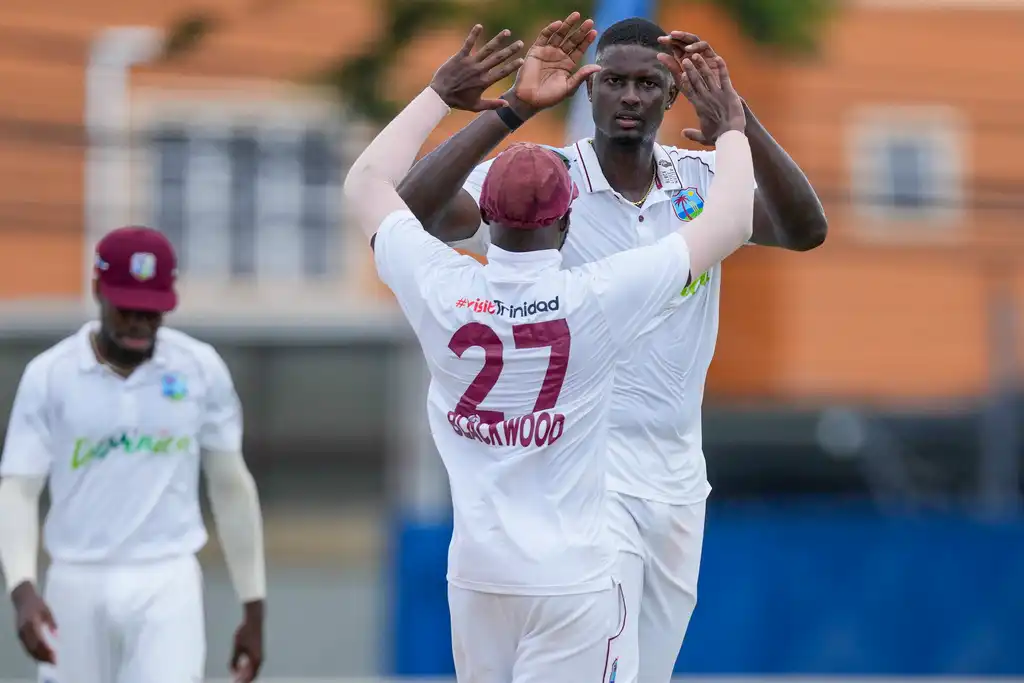 Jason Holder celebrating a wicket with WI vice-captain (AP Photo)
There are situations wherein you succumb to a harrowing defeat. And then there are moments where even a hard-earned draw, regardless of it being rain assisted, smells like a win-does it not?
While the West Indies cannot really be blamed for the fight and final day becoming gladly a witness of massive rain intention, where they can be credited for showing grit and determination, two factors that often eschew their grasp, during the first inning.
One of the most underappreciated but vital elements of the just completed Test match was the fact that in their first inning, the Caribbean side batted for almost 116 overs, which was a much-needed respite from their capitulation at the previous Dominica contest.
From being smashed inside three days to earning a hard-earned draw, there were some key positives for the West Indies in what we just saw:
Roach and Gabriel still got the tricks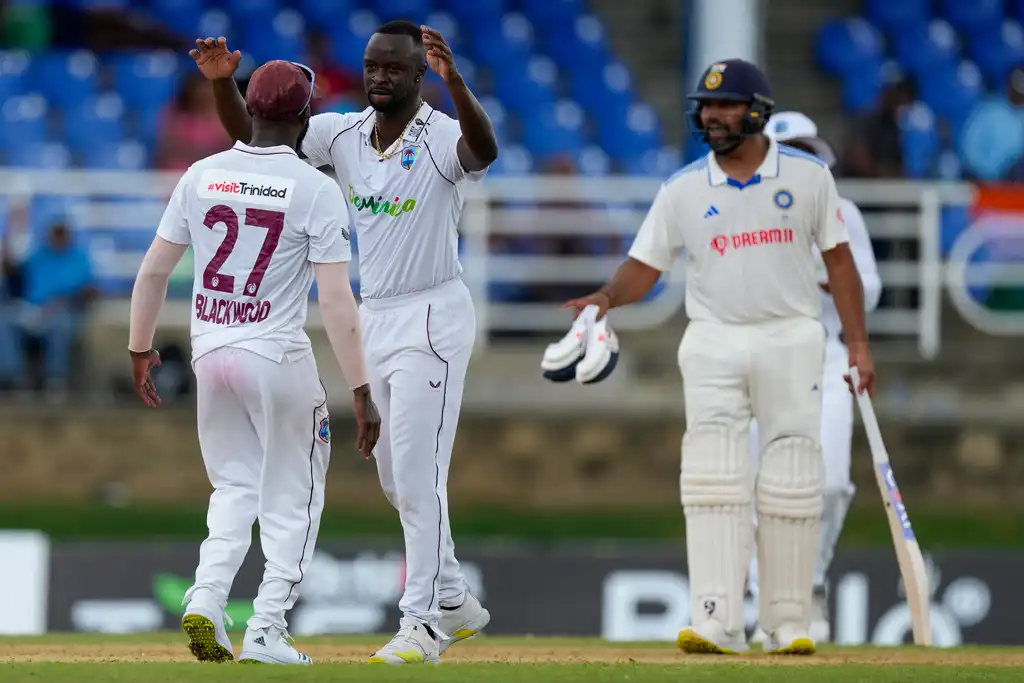 Kemar Roach after Shubman Gill's dismissal (AP Photo)
Pace and bounce, the uncanny combination of consistency of line and length and the imposing body language; this is a duo that's been at it for time and time again and isn't done just yet.
The West Indies cricket have, for the longest time now, been served by the tireless duo of Kemar Roach and Shannon Gabriel.
Together, the duo, famous mostly for its Test cricket performances, have jointly picked up some 431 wickets, which includes, not to forget, some 17 five wicket hauls.
And while there weren't a flurry of wickets for the Barbadian and Trinidadian duo this time around given the Indian batting order came down heavily on a weakened Windies set up, Roach and Gabriel shot back at form in the most recent Trinidadian wicket.
On a placid wicket, which after the initial days turned into the favour of the spinners with Jadeja and Ashwin causing a few problems, Roach and Gabriel picked up five wickets between them proving the fact that for as long as one had the appetite to attack, the fast bowlers had a say in the contest.
Anyone who'd have remarked that bowling was the easier task on what was quite comprehensively a pitch suited for the batters, just didn't note how unforgiving the Trinidadian wicket out there was.
Given the West Indian fast bowling duo at 35 is still going strong while a younger generation comprising Alzarri Joseph is coming into its own, cricket is still not a lost cause for the Caribbean men.
What a find Alick Athanaze is for West Indies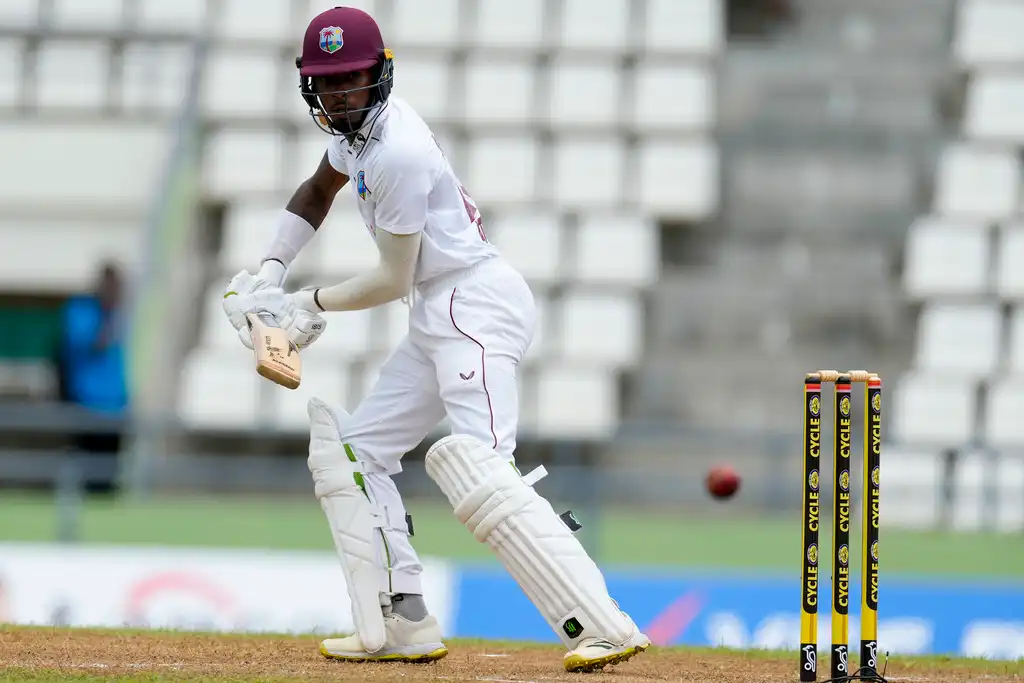 Athanaze was the most promising batter for WI (AP Photo)
Many people remember who won the Under-19 World Cup edition back in 2018, but few would had remembered the boy who had, as a matter of fact, topped the run charts in that huge series.
It was none other than the recent debutant of the West Indies cricket: Alick Athanaze.
Having shown nearly half a decade back that he had the hunger and the drive to score runs courtesy a mega successful run in the Under-19 World Cup wherein he scored 418 runs in 6 innings, Athanaze was always destined to succeed at cricket.
And while the big massive successes, you'd reckon still lie in the future for his West Indian chapter (having only just begun), from the little one has come to see in Alick Athanaze, disappointment is the last word.
What Athanaze, with scores of 47, 28 and 37 offered to a rather shaky West Indian line up this time around was a sense of belonging to cricket's highest level.
When the ball calls for it, the avid youngster from Dominica goes for the shots and when it comes down to focusing hard during particularly hard parts of a Test match, Athanaze has demonstrated that much needed factor called grit.
Isn't that what one expects from the dashers from the Caribbean islands?
Moreover, that the left hander top scored for the West Indies and that too, at his Test debut in front of his Dominica home crowd was quite an exemplary way to begin his red ball national career.
Kraigg Brathwaite finally found some runs against a giant opponent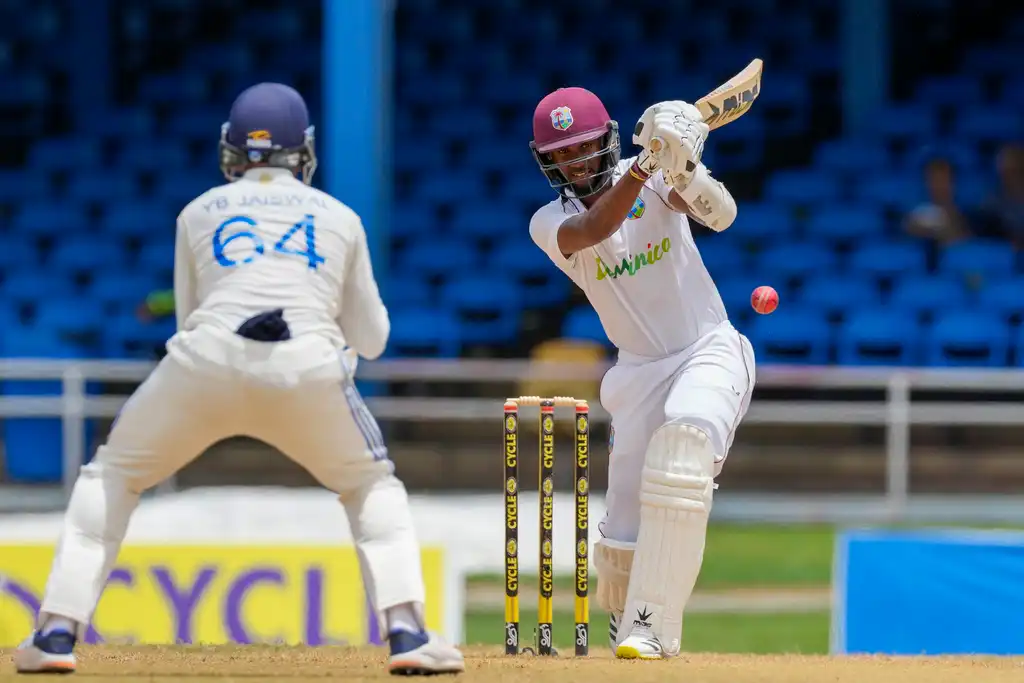 Brathwaite played a courageous knock in Trinidad (AP Photo)
The last time, prior to his Trinidad effort, that Kraigg Brathwaite had actually scored a test fifty against India was back in 2016. Would you believe it? Did you note?
A firm knock in the sixties was what the dogged right hander had managed. Since then and prior to the Trinidad-bound second and final test, the West Indian batted on twelve further occasions against India from which he'd registered 6 single digit scores.
Which is when all of that changed come the Port of Spain.
But finding the quintessential patience within and at a time where his team highly needed it, Kraigg Brathwaite conjured 75 vital first inning runs to return back to form.
That he stayed put for no fewer than 235 deliveries grinding the very bowlers who had taken the Mickey out of his West Indies side in the Dominica loss, including R.Ashwin was the best reward of his effort.
And it was a captain's inning, you ought to admit.
Even in the second innings, which was eventually rain infested, Brathwaite got off to a good and usual focused start scoring 28 vital runs before he simply handed his wicket away; it's something that the resolute batsman known for his temperament at the Test level will need to take stock of in future.