How Ishan Kishan is Strengthening His Case Right Ahead of The World Cup 2023?
---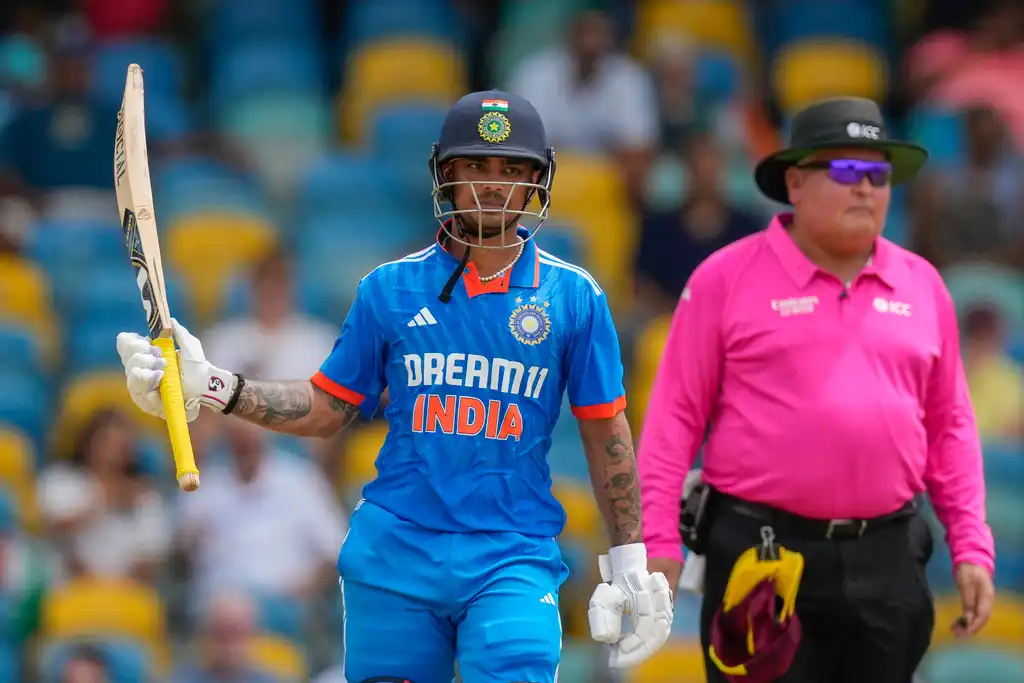 Ishan Kishan's performance has been spectacular against the WI Team so far.(AP News)
As the biggest ICC event of the year, the men's one day World Cup is just a little over two months away, the race to secure one's spot for bigger contention in the famed Indian cricket team is getting intense.
India have some answering to do
India, who last won a World Cup further back in 2011 and have since only won a solitary ICC trophy two years down the road (2013 champion's trophy), couldn't get any keener to resolve their batting position discussion, which as on date, seems more like a conundrum.
A few weeks down, there were concerns whether someone like a KL Rahul would be available given the treacherous injury the experienced marksman sustained in the recent edition of the IPL.
What Ishan brings to the table
Resultantly, talks surrounding the always uppity, dynamic and so amazingly stroke-filled Sanju Samson holding that spot for big contention gathered steam.
And could anyone be blamed for supporting the always-a-touch-underrated Samson?
Each day, whether you're a cricket expert, a reputed analyst, maybe even a memer or if not, then simply a fan with nothing held back- there's talk around who should open the innings and who should eventually get to keep for the team in the most prized and coveted trophy that there could be in the white ball format.
A brave new world
Against that narrative someone like Ishan Kishan, most famous for his Mumbai Indians batting in the much-loved IPL and his recent 210, has generated huge interest.
Of course, what also helps the cause of the dainty but defiant keeping batter is the rich vein of form he's been in almost in the entirety of this Caribbean tour, which is far from over.
KL is around again, gladly
Even as videos featuring KL Rahul practising incessantly have surfaced all over the Internet offering widespread and perhaps much needed enthusiasm around his chances, Kishan, it ought to be submitted, is strongly backing his case for the World Cup contention thanks to some impressive scores.
Two of his most recent one day innings have yielded in much needed fifties.
Kishan doing his job v the Windies
Of course, that only one of them have resulted in a win for the visiting Indian side can't be put down to Ishan Kishan's fault and must be attributed to the bowling insufficiencies the India team has persisted with particularly in the most recent second one dayer held at Barbados.
Kishan, who most recently played his very first Test in the Caribbean and impressed one with his dogged efforts featuring the unbeaten 52 (at the back of a first inning 25) has been in fine form in the shorter version of the sport.
Accelerator that India needs
For someone known to be more familiar with the one day arena, which is where his smashing 210 (struck earlier this year) made him a darling of the global cricketing media, Kishan's demonstrated maturity beyond his years.
His adaptability from the Tests to the One dayers wherein he's shifted the rate of scoring is something to note with regard.
After his first one day's 46-ball-52, Ishan Kishan was quick to compile a run-a-ball 55, which actually constituted a little over third of India's paltry 181 total at Barbados.
On the whole, for someone who's just played no more than sixteen one dayers, there's little that Kishan can be bashed about it given lame critics often base their careers by doing so.
Why Ishan mustn't be doubted?
Yet, in a game that's so heavily tilted towards the cauldron of the batters in this age where cricket has to often don the hat of entertainment, Kishan's big hitting and northerly scoring rates go a long way in making a case for his consideration.
How's that?
His current batting strike rate is 106. Besides, 6 of his 16 one day innings as on date have featured a fifty plus score.
Not bad for a 25-year-old, eh?
But could there be something else that the batsman who's yet to really ace his game against spin on turning conditions brings to this present day side?
Undoubtedly, as some may note, Kishan's chemistry and understanding of batting alongside his close mate and another rising name in the annals of Indian cricket- Shubman Gill offers a sense of unbridled optimism.
Can this be the dynamic duo akin to the Rohit-Shikhar pairing of the past that could play its own hand in solidifying the batting at the very top of the order?
We will have to wait for sure
But as some fans would echo- the enthusiasm to bat without holding himself back or receding to pressure, such a quintessential DNA of Kishan's game, further make him a precious choice- which only selectors have to deal with for the fan can't, obviously.
But here's the thing. While much of his game is still developing, here's a batsman who offers the perfect left hand and right hand foil to Gill up top.
In the post Shikhar Dhawan age, whilst the Delhi batter is still fit and dandy, there's at least, a youngster around for India whose batting has the edge of confidence and not the blunted spot of vulnerability.
Possibly it might be right to say, it's onwards and upwards from here for the youngster.