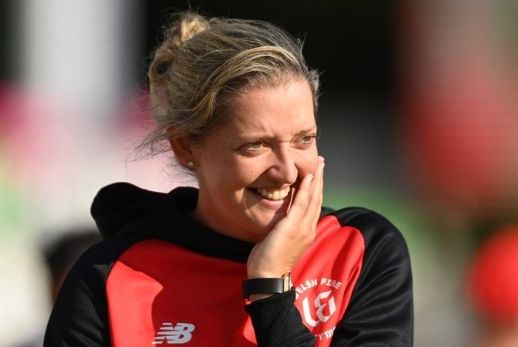 Sarah Taylor set to join Manchester Originals as men's assistant coach
Sarah Taylor, the former England wicketkeeper-batter has joined Manchester Originals as an assistant coach for this year's Men's Hundred. She has said that if more female coaches join then it would "benefit the game as a whole" as well.
Taylor, who is widely known as one of the best keepers in the history of the game - be it male or female, has been working with Sussex's men's squad as a specialist keeping coach since the beginning of 2021 as well, and more recently took up a role with Team Abu Dhabi in the Abu Dhabi T10 too as well.
Her appointment comes after a playing role with Welsh Fire last year in the inaugural edition of the competition when she came out of her retirement and featured for Northern Diamonds in the Charlotte Edwards Cup and Rachael Heyhoe Flint Trophy as well.
While she admitted to the BBC that she wanted to continue with her on-field career, she also recognised she would be "stupid to turn down" the chance to enhance her coaching skills with another high-profile appointment as well.
"These roles are coming around now and any woman that gets offered an opportunity, they should take it with open arms," Taylor said. "I'm extremely grateful to Manchester for giving me this opportunity."
She continued: "There is no rush for me. I'm still young enough and fit enough to play, so if an opportunity comes around I will absolutely consider it. But right now coaching is the opportunity I was happy with, so I'm going down this route."
However, Sarah Taylor will be working under head coach Simon Katich, and alongside her fellow World Cup-winning wicketkeeper-batsman Jos Buttler. Other England players in the team are - Ollie Robinson, Matt Parkinson and Phil Salt - with whom Taylor has previously worked at Sussex as well.
"I fell into the men's game and I'm taking every opportunity I can to keep learning," Taylor added. "We have to keep pushing. There are some brilliant women's coaches out there and I hope they get recognised, in the male or female game."
While her primary role will be with the men's squad, she will also work with the Manchester women's team when the chance comes - including her former England team-mates Kate Cross and Sophie Ecclestone as well as South Africa's Lizelle Lee.
"I absolutely loved playing last year," Taylor again added of the Hundred experience. "It's an exciting tournament and I loved how the boys and girls were treated as one unit."