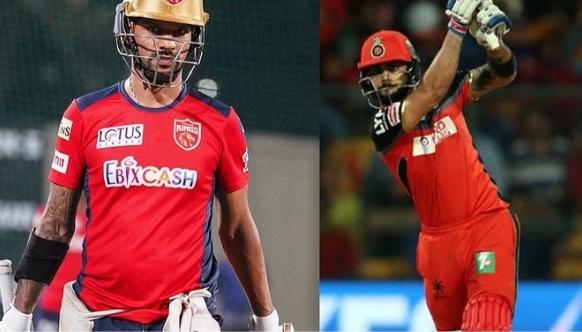 IPL 2022 | PBKS vs RCB | Combined Fantasy Tips
On Super-Sunday, Punjab Kings will begin their IPL 2022 journey against Royal Challengers Bangalore (RCB). This match will be the second of the double-header scheduled for the day. During the mega auction ahead of the IPL 2022, Punjab looked quite active, trying to cover up all their bases. At the end of the auction, they put together a more or less balanced team. As the team begins its journey for the season, let's look at the team's must picks and stay-aways.
Untamed: Whether a minor league player or a grand league player, these cricketers need to be picked in the team, even at the cost of high credits.
Shikhar Dhawan: Dhawan will be seen at the top order of the Punjab team this season. An average of 40 fantasy points per game makes him a must pick. He can single-handedly change the course of a match on his day. Choosing him as the captain of a minor league team, and be assured that you will get returns on most of the days.
Kagiso Rabada: It is often said that bowlers win matches. Rabada is one such bowler who can be a match-winner on any given day. Rabada averages 20.5 in the IPL as a bowler. He will pick up wickets both at the beginning and end of the innings. Thus, KG can be ignored only at their own peril.
Johnny Bairstow: Bairstow will not be available for Punjab in the first few matches due to national duty. Bairstow has an average of 41 in the IPL and a strike rate of 142 plus. So a player who scores quickly and consistently should be a must pick when he features for Punjab.
Shilly Shally: These are players who go on and off. Risky but high returning picks on their days.
Shahrukh Khan: Shahrukh Khan will be seen playing an essential role in the lower middle order of the Punjab Kings team. Shahrukh impressed everybody last year with some powerful finishes. He has a strike rate of nearly 135 plus in IPL but averages just 21.9. It makes him a high-risk pick because he might provide returns everyday. But if you are going for risks in the grand league, go for him.
Unhailed: These players are generally the profitable picks because they will provide daily returns and cost relatively fewer credits.
Mayank Agarwal: Mayank Agarwal will be leading the team this year. He has an average of 26 fantasy points per game. But in the last two years, he has scored at an average of over 35 and a strike rate of 140 plus. So, many might ignore him, considering his overall career, but he has picked up his game in the last two years and will provide consistent returns if picked.
Arshdeep Singh: Arshdeep Singh gives a return of 23 fantasy points per game. Last year in 12 matches, he picked up 18 wickets. Many fantasy players may ignore him as he is still not a big name, but if he is there in your team, be assured of some valuable points.
Stealthy Warriors: These players are the x-factors of the team. They are still not so common in the IPL.
Prabhsimran Singh: This young wicket-keeper batsman has a healthy strike rate of 136 in his T20 career. In Bairstow's absence, he might be a part of the final eleven. However, as he is still not a known face in the IPL circuit, many might ignore him but pick him to get some valuable points added to your fantasy score.
Liam Livingstone: In T20 cricket, he returns an average of 35 fantasy points per game. He has just made a few appearances for the Rajasthan Royals team and has not yet delivered to potential. However, this year he will be a more regular face in the tournament so pick him up; he will surely give some good returns.
Odean Smith: Odean Smith impressed everybody with his performance in the T20I series against India. He can be handy with both bat and ball. So, he might yield some unexpected returns if included in teams.
Imposters: These will be the players who will yield negative points in most of the games.
Rishi Dhawan: In his IPL career, he has just picked up 18 wickets from 26 matches. So, you cannot expect much returns from him based on history. But he is coming into the tournament on the back of some outstanding performances in the domestic circuit. So, Dhawan can be called a dicey pick rather than a stay away. One must have to back their guts regarding him.
Hot Picks: Shikhar Dhawan, Kagiso Rabada.
Risky Picks: Shahrukh Khan, Rishi Dhawan.
Royal Challengers Bangalore
The long time captain of Royal Challengers Bangalore (RCB), Virat Kohli, will no longer be leading the team. This year, the captaincy responsibilities will be with Faf du Plessis, and the Bangalore fans will be hoping that their team wins their maiden IPL title under their new leader. The thing to note is that RCB laid particular stress on picking up quality bowlers for the season. So, let's take a look at the must-picks and the stay-aways from RCB.
Untamed: The strongest warriors from their respective squads. They will cost higher credits but need to spend those to win some fantasy leagues.
Virat Kohli: Many might argue that Virat is not at his best. There have been no centuries for the past two years, but someone having an average of 49 fantasy points per game cannot be ignored. It will be not long before Kohli finds his form back. Therefore, choosing form over class should be done at one's own risk.
Faf Du Plessis: Last season Du Plessis was seen in the yellows of CSK. But this year, he will be donning the red and blacks of RCB. 633 runs in the 2021 season and an average of 35 runs, he is a must pick for any league.
Shilly Shally: These are players who go on and off. Risky but high returning picks on their days.
Glenn Maxwell: Maxwell will not be featuring for RCB for the first few games due to personal reasons. But when he returns, he will have the added responsibility of filling the shoes of AB de Villiers. He was brilliant last year, but we have generally seen that he may disappoint at some important situations. Nevertheless, he has an average of 43 fantasy points per game, and his striking abilities are beyond question. So, he is a crucial pick. But it is advised to be careful while making Maxi the captain or vice-captain of the team.
Unhailed: They are the players who will give you good returns and eat up fewer credits.
Dinesh Karthik: Dinesh Karthik is an experienced campaigner who knows how to play in pressure situations. With a return of 30 fantasy points per game, he will be a healthy pick for a team.
Shahbaz Ahmed: A good pinch-hitting batsman and an economical left-arm spinner, Ahmed yields 25 fantasy points per game. Therefore, he's a must-pick in fantasy teams.
Josh Hazlewood: The Australian will be absent for a few matches at the initial stages of the tournament. But when he comes back and joins the squad, he must be there in your team. Last season he picked up 11 wickets in 9 matches at an average of 26.63. So, his presence promises consistent returns.
Stealthy Warriors: These are players who are relatively lesser known to Indian cricket fans.
Mahipal Lomror: Mahipal Lomror is considered an explosive lower-order batsman, but his potential hasn't been explored yet in the IPL. He might play some explosive knocks and garner enough points.
Anuj Rawat: In the absence of Maxwell, Rawat might make it to the final eleven. The young batsman has a reputation for being a consistent run-scorer in the domestic circuit. While looking for consistent returns, Rawat can be experimented with during the initial games of the tournament.
Wanindu Hasaranga: In T20 matches, he has an average of 32 fantasy points per game. He is yet to play to his potential in the IPL. So, this year if picked, the Sri Lankan guarantees some handy points.
Imposters: You would generally like to stay away from these players.
Karn Sharma: He has not been an active part of most of the squads in the IPL. He may appear for RCB in the first few matches in the first eleven. But with an economy rate of 7.97 in the middle overs, it is advised to avoid the leggie in teams.
Mohammed Siraj: Siraj has grown in stature in the international arena. But his growth has been in the longest format of the game. Last year, Siraj became one of the most improved bowlers in T20 cricket. With an economy rate of 8.38 in T20 cricket, he might someone you could avoid. But with the maturity he has shown, he might turn out to be a completely different bowler.