Top 10 Most Brutal Innings in Test Cricket
---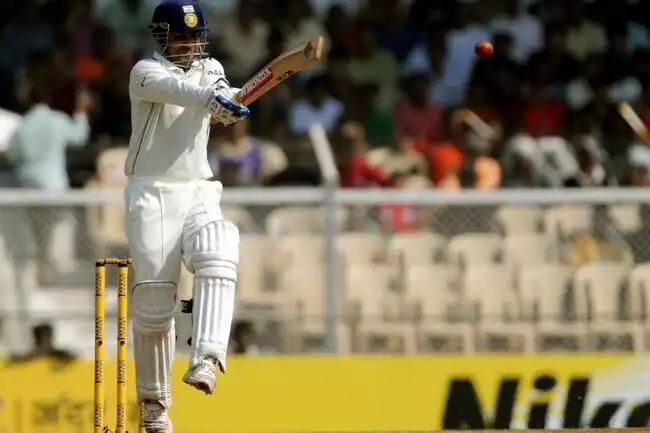 Virender Sehwag slams 293 vs Sri Lanka [Source: Twitter]
Test cricket will be cherished by players for being the purest form of the sport, however, ever since the introduction of T20s, the subtle changes in the batting approach is quite evident. However, even before the onset of T20 cricket, there have been instances where batters have showcased their belligerent self and managed to defy the odds.
Over the years, this trend of playing fearless and aggressive cricket is witnessing a rise in Tests as well, given the eyeballs it needs to attract to stay relevant. So, in this list, let us dwell on the Top 10 most brutal knocks played in the longest format for the game, that took the cricketing world by storm.
(in no particular order)
Adam Gilchrist - 149* vs Pakistan, Hobart, 1999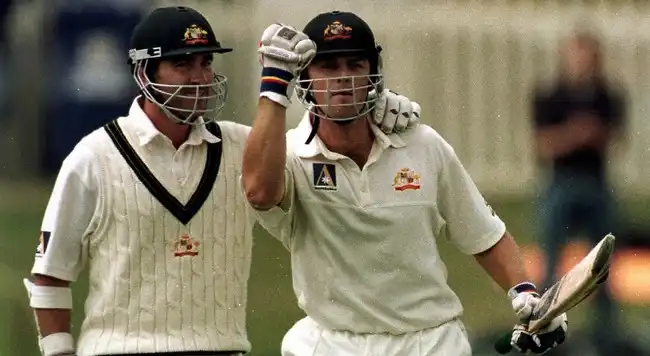 Adam Gilchrist [Source: Twitter]
With Australia, staring down the barrel, Adam Gilchrist produced a masterful maiden hundred, that will forever go down in the record books as one of the most stunning knocks in just under four hours. Languishing on 188 for 5, on the final day of the Hobart Test, Gilchrist helped Australia chase down their third-highest total, smashing 149 off 163 balls, which included 13 fours and one six.
Gilchrist along with Justin Langer added 238 runs for the sixth wicket, which propelled the wicketkeeper-batter career into stardom.
Brendon McCullum
Virender Sehwag - 195 vs Australia, MCG, 2003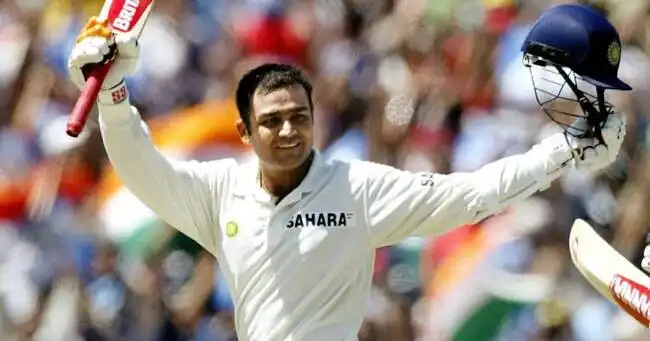 Virender Sehwag [Source:Twitter]
Known for his brute hitting Virender Sehwag pounced on the Australian attack in the Boxing Day Test in the 2003-04 series. Sehwag showed no mercy on the likes of Brett Lee, Nathan Bracken, and Stuart Macgill, where other Indian batters struggled to get the ball on the bat.
Sehwag struck a marvelous 195 from 233 balls, which has 25 fours and five towering sixes. India, however, went on to lose the Test following Ricky Ponting's 257 and Matthew Hayden's 136.
Brendon McCullum - 302 vs India, Wellington, 2014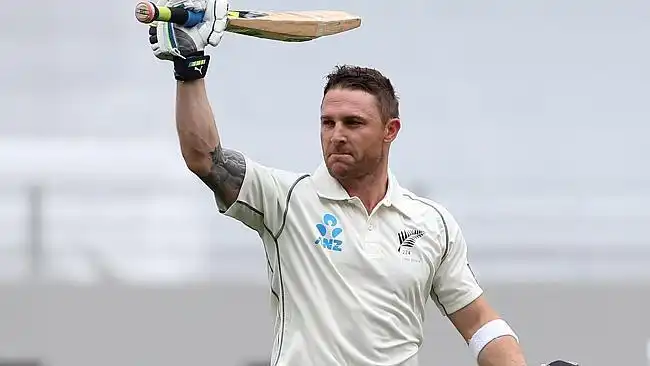 Brendon McCullum [Source: Twitter]
With a defeat in sight, former New Zealand skipper Brendon McCullum battered and bruised India's in-form bowling attack in the 2014 Wellington Test. McCullum started off slowly, and gave respect to their conditions and opponents, before opening an all-out assault.
McCullum became the first Kiwi batter to score a triple hundred, which took him 559 balls, that were laced with 32 fours and four sixes, which dashed India's hope of a series-leveling win.
The match ended in a draw.
Nathan Astle - 222, vs England, Christchurch, 2002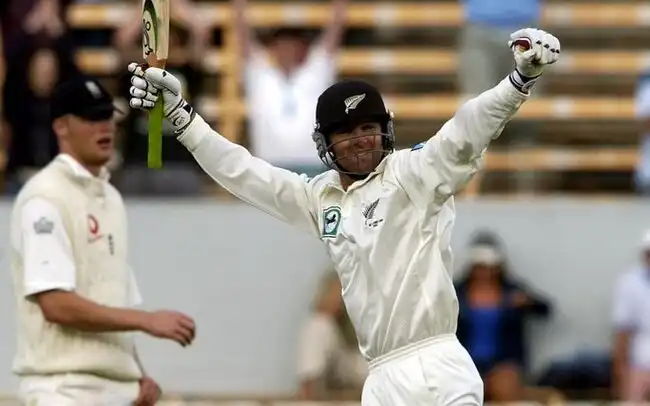 Nathan Astle [Source: Twitter]
No list is complete without mentioning New Zealand's Nathan Astle. Astle slammed a magnificent 222 against England in 2002, which to date is the fastest double century in Test cricket.
Even before T20 cricket came into prominence, the Blackcaps opener exhibited his range of strokeplay and innovativeness, which ended in a losing cause. Astle's 200 came off just 153 balls and featured 28 fours and 11 sixes.
Matthew Hayden - 380 vs Zimbabwe, Perth, 2003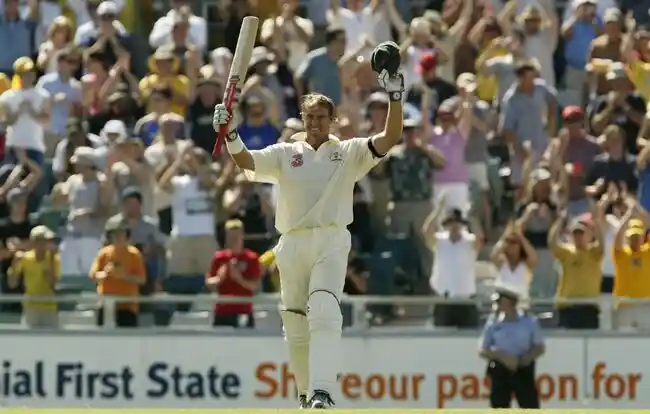 Matthew Hayden [Source:Twitter]
Known for his devastating batting, Australian Matthew Hayden enters this list with a brutal onslaught against Zimbabwe. Hayden slammed 380 runs in the Perth Test back in 2003, the-then highest-ever individual; Test score, before Brian Lara breached 400.
The explosive batter scored 200 runs along in his most preferred region, in an innings that witness 38 fours and 11 massive sixes.
Virender Sehwag - 293 vs Sri Lanka, Mumbai, 2009
Sehwag demolished bowlers during his career and did not pay heed to anyone when going up against them. Sri Lanka fared the brunt of Sehwag's power-hitting in the Braboune Test in 2009, where the opener slammed 293 runs.
The Delhi-born hit maintained a strike rate of over 100 against the likes of Rangana Herath and Muttiah Muralitharan, which rarely happened. Sehwag found hitting the cricket ball fun, and that showed as the Nawab of Najafgarh slammed 40 fours and seven sixes in a single day, only to be dismissed on the next.
Ben Stokes - 258 vs South Africa, Cape Town, 2016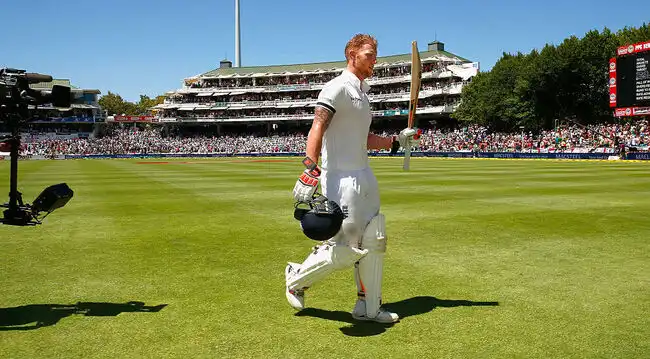 Ben Stokes [Source: Twitter]
Playing his 21st Test, Ben Stokes revoked memories of Gilchrist who batted similarly. Stokes, due England out a hole, during his blitzing knock of 258 runs, that came against South Africa at Cape Town in 2016.
Stokes helped the Three Lions cross the 600-run mark for the first time since 2011, in an exhilarating display of brutal hitting. Reaching a double-hundred in just 163-balls, the second fastest ever, Stokes' 258 witnessed 30 fours and 11 sixes, before getting run-out.
Adam Gilchrist - 102* vs England, Perth, 2006
Gilchrist played T20 even before it got gained fame and recognition. Sadly, England has been on the receiving end of Gilchrist several times, and this time too, the wicket-keeper batter did not spare his opponents.
In the 2006 Perth Test, Gilchrist launched a frontal attack on English bowlers after getting out on duck in the firsts innings. The left-handed in particular tormented Monty Panesar, slamming him for 40 off 17, en route to a 57-ball 100, which included 12 fours and four sixes.
MS Dhoni - 148 vs Pakistan, Faisalabad, 2006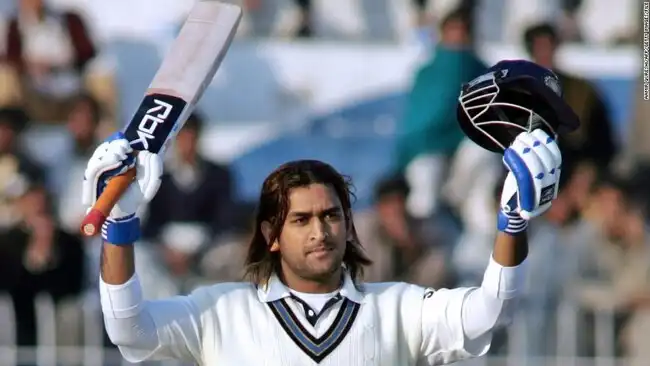 Mahendra Singh Dhoni [Source: Twitter]
MS Dhoni made heads turned, when the wicketkeeper-batter took centre stage against Pakistan, in just his fifth Test at Faisalabad recording his maiden red-ball hundred. With India tottering at 281 for 5, Dhoni launched an attack on an in-form bowling line-up that consisted of Shoaib Akhtar, Mohammad Asif, and Danish Kaneria.
The former India captain went hammer-and-tong against Kaneria, who infamously showed his frustrations in the middle, only to get hit for sixes. Dhoni scored 148 in just 153 balls, which included 19 fours and four sixes.
Jonathan Bairstow - 136 vs New Zealand, Nottingham, 2022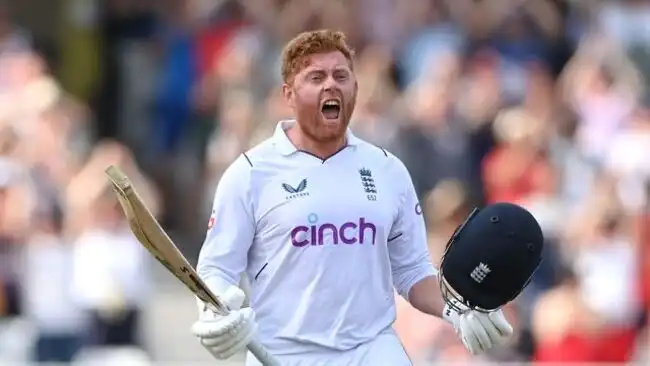 Jonathan Bairstow [Source: Twitter]
Chasing 299, England's wicket-keeper batter Jonathan Bairstow craved out a scintillating 136-run knock, that will forever be remembered for its sheer explosiveness. Bairstow struck a quite-fire 77-ball century, which is the second-fastest in the fourth innings of a Test; Gilbert Jessop took 76-balls.
Bairstow's record-breaking ton consisted of 14 fours and seven sixes, which ensured England chase down their fifth-highest total.