Aaron Finch: The easy-going destroyer of the white ball
---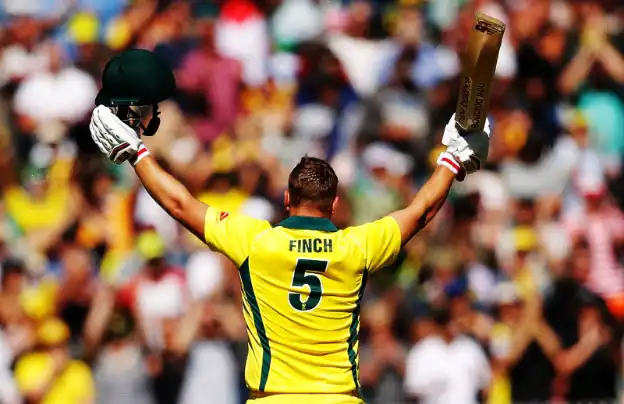 Aaron Finch will go down as one of the best-limited overs openers for Australia (PC: Twitter)

Many would say the best thing about Aaron Finch was his brutal batting. The power. The ease with which he cleared the ropes and will be expected to in the World Cup.
But there's also another element to Aaron Finch that was, is, perhaps as enjoyable as his batting.
His uncomplicated personality. In some ways, it's always complimented his batting; Finch has always been someone who's hardly craved attention.
The sort of guy you see running a successful fund has quite some on him but doesn't brag about it.
Know why?
For he doesn't need to. There'll always be some who'll score the runs and want to be heard from. There'll be some who'll even get riled up when their feats aren't noted or not warranted the attention they deserve.
And then, there'll be the likes of Aaron Finch; who'll go out there, put on a good whack with the bat, score, get out and return back chewing the gum.
They'll be about no dramas. Zero shenanigans.
And here's the thing that we're probably going to miss about the mild-mannered Aussie who could so easily have played 150 one-dayers and yet called time after playing 146.
Aaron Finch didn't make a big deal about his ODI feats and didn't mind going heavily under represented, which is when he could have.
Not once starting 2017 until 2021 did Aaron Finch average under 44.
As a matter of factly, the right-hander averaged north of 51 in 2019 and actually 56 in 2020.
During this period marked by flagrant abuse of white ball bowlers, Finch scored over 2000 of his 5,400 ODI runs.
Yet, all we ever got to read was about Steve Smith's dexterity, how able Kane Williamson is and of course, how Virat Kohli was cricket.
Finch's exploits- 1141 runs in 2019 alone- found as little coverage as the publication of tributes even when the great Rudy Koertzen passed away.
Not that Finch would've minded. Not that he has to.
One notes, his bullshit meter was always on; he couldn't care less about anything that wasn't cricket.
In a world that thrives on hype in an age that's so often about it, Aaron Finch was and shall be a reminder that it is possible for one to be simple despite being successful.
Maybe he could be credited a bit more than he is for being an ambassadorial figure of sorts for doing a lot and getting so little credit for it.
That's when Aaron Finch captained, didn't only score and that too, for a bastion of excellence that is Australia.
Finch's success also stems from the fact that he made a place of his own despite being amid a sea of vastly impressive talents.
If you can keep your wits about yourself amid a cesspool of cricketing rockstars like Smith, Starc, Warner, Lyon and Cummins, then you're not doing too bad in life.
Even as 2022 didn't prove to be a year that Finch would've liked - just 169 runs from 13 games- being the optimist that Finch has been, he'd like to still give one last push.
Gladly for him and for his fans alike, Finch has that last shot in the next few hours; his final ODI against New Zealand.
Can the easy going, antithesis to stress make it count?
---
Also Read: Aaron Finch announces retirement from ODI cricket