Michael Bracewell - A star in the works for New Zealand side that often functions without one!
---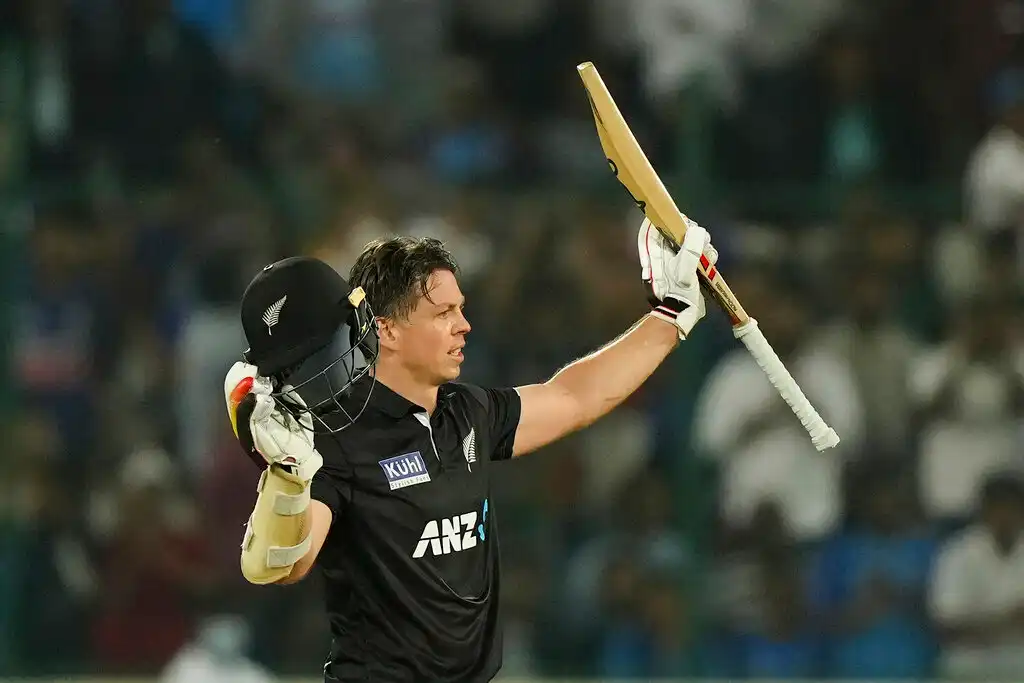 Michael Bracewell smashed 140 in Hyderabad
He'll surely go on to play many a match winning knock for his New Zealand. But for as long as Michael Bracewell plays international cricket, he'll undoubtedly be remembered for authoring two very distinct but explosive innings, which despite being very high on entertainment, fetched mixed results.
Here's the first.
Last July, as he entered New Zealand's run chase in the first ODI against Ireland, with over half the side back in the dugout, a whopping 181 were still needed with just 130 deliveries remaining.
But what's most interesting is that despite the enormity of pressure, Michael Bracewell stroked a fiery century against the Irish.
Tough, the feeling of having hit a ton in what was then just his fourth ODI didn't fully set in until he walked back to the dressing room with an ecstatic crowd that was on its feet to applaud a marathon ton.
His unbeaten 127 runs off 83 deliveries became the sixth-highest one day score by a number seven. A record score.
That century took his team to an incredible win even as the Irish fans were found celebrating in the stands as one would reckon, a touch prematurely.
The other, the second, came hours back, thousands of miles away from Malahide, which was the scene of Bracewell's mighty effort against the Irish.
Out here at Hyderabad on January 18, 2023, Michael Bracewell's heroics all but dethroned Shubman Gill's glorious maiden ODI double ton.
111 for 5 is what the scoreboard read when Michael Bracewell walked in to the middle.
His team needed a rather imposing 239 more for a win with half the side back in the pavilion. Truth be told, it was was a grim sight that would make the coolest in world cricket somber with the challenge of what was to follow.
Yet, by the time Bracewell- brave, bold with nothing held back- retreated to the pavilion- he had reduced the margin to twelve more needed by New Zealand.
Alas, there was nothing more that could be done. The left hander was the final wicket that fell albeit also the one that caused India nearly irreparable agony on the path of a victory that you'd say was ultimately well earned.
Yet, what followed for nearly 25 consecutive overs, which is pretty much the duration for which Bracewell commandeered an end on his own as none barring Mitch Santner fought on, was carnage.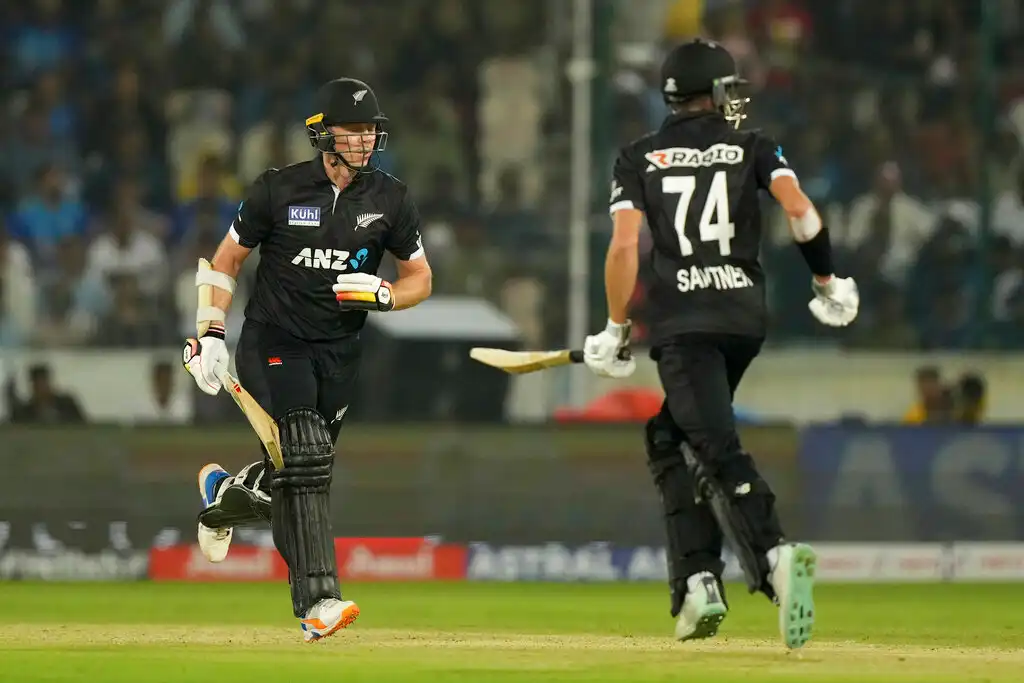 Michael Bracewell and Mitchell Santner shared 162-run stand
It was brutality. It was batting belligerence of the highest order.
One simply runs out of adjectives.
For a team that had strokemakers of the class of Daryl Mitchell, Finn Allen and Tom Latham, in the end only one man stood up to tackle India's giant of an ask of 350.
And that's when the game was perhaps over until it was revived at the back of a heavy backlash against a bevy of Indian medium pacers all of whom are match winners in their own right.
His name was Michael Bracewell. And in a team that sorely missed the trinity of Williamson, Neesham and Guptill, Bracewell embraced the giant ask with aplomb reducing it to an exhibition of such captivating hitting that one reckons it would've elicited response from even an AB de Villiers, Chris Gayle or Viru Sehwag.
While he ended on 140, facing no more than 13 overs, to be precise, Michael Bracewell engaged in morbidity with the bat, dealing with the likes of Siraj, Thakur and Yadav as if it was all child's play for him.

Hyderabad hundreds. @braceyourself10 140 (78 balls) and @ShubmanGill 208 (149 balls). Scorecard | https://t.co/S2PsDT6yGW 📷 = BCCI
You appreciate a century when it features big hits and frequent boundaries. You relish it even more when its dot ball percentage is next to nothing.
But you really regard a one day century when its primary methods of construction, say raw material are fours and sixes.
Mighty effective over the on side and slapping and cutting with glee, Bracewell slapped 12 fours and 10 sixes on his way to an unparalleled 140 in the end.
Giving number crunchers some serious work, the buoyant leftie thus collected 108 of his 140 by way of just hits to the fence.
In the end, as a Kiwi backer you were just left wondering what if the top order that fell cheaply would've mounted some runs for Michael Bracewell's task to become easy.
But in demonstrating a very Lance Klusener like hardcore approach in hitting on either side, Bracewell's emerged as a possible star in the making. And that too in a series that has no dearth of big batters, when you think of Conway, Kohli, Sharma and Sky.
If that's not interesting enough for one to stay glued to what lies ahead, then what will ever suffice?
---
Read More: AB de Villiers pens emotional note as Hashim Amla announces retirement