The Importance of Being Mark Chapman
---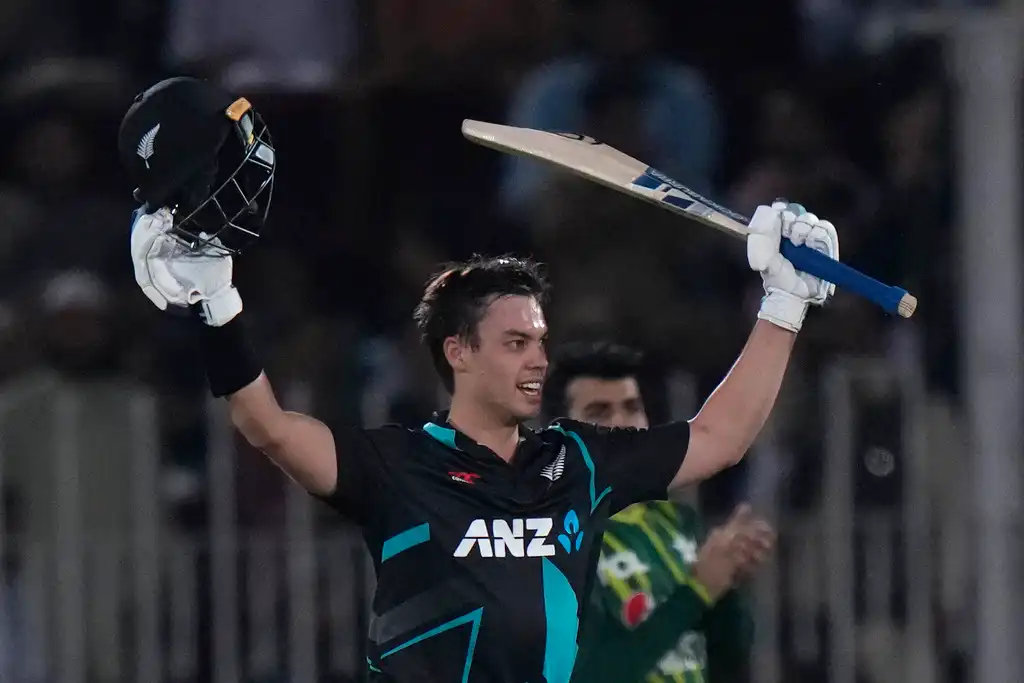 Chapman's 104* helped NZ level the series at Rawalpindi (AP Photo)
There's not much doubt as to why the Mark Chapman innings against Pakistan will stay in the mind of the cricket fan and won't be forgotten anytime soon.
That it came in a virtual series decider for his vastly unsung New Zealand side offers hardly the entirety of the reason.
For starters, you don't want to lose your captain in the maiden over of a run chase, and that too, for a naught.
In Tom Latham's first-ball-departure for a no-score, New Zealand's run chase against Pakistan had been dented heavily.
We'd seen what Latham can do with his touch of timing and class already.
But with Young departing soon after, after only hitting a boundary; it was pressure, real pressure for the visiting side.
That two wickets had fallen early on was just the build up to the concern for the Kiwis; that both those wickets had fallen inside the space of the opening over was something no Kiwi fan anywhere desired.
You'd much rather deride that sight as s New Zealander.
The asking score of 194 now seemed about as far as is the moon to the naked eye here from the earth.
A bit beyond too far is what one might have called it.
To be fair to him, there was not an awful lot one would've expected from Chad Bowes, who only had an experience of playing eight previous T20Is thus far. And in the end, he could only manage a quickfire 19, though reminding us all with his flurry of boundaries that here's a Kiwi talent that could go the long way.
With their run rate going about nowhere and with three wickets down for the score of just 26 in 4 overs, just who would have thought that Mark Chapman, the innocent-looking willow wielder was about to unleash carnage, real carnage with the bat?
But perhaps it could be argued that this is what experience does to you; Chapman had played 51 T20Is previously before entering the Pindi-bound T20I.
And while he may not be a Guptill or Williamson in having all the experience in the world on how to author a book on handling pressure, he was no neophyte trying to find his feet in the highest annals of competitive T20 international cricket either.
What soon appeared amid a high pressure game situation was a bloke who was rather unsullied by it, someone who didn't just seem content at playing the rescuer but the surprising counter attacker of sorts.
And they all found out not long after; the Shaheen Afridi's, the Shadab Khan's and the rest.
In playing a inning of sheer might and utter resilience, the leading highlight of the fifth and final T20I became Mark Sinclair Chapman versus Pakistan.
With four huge sixes and eleven boundaries, each hit to the fence marked with intent Mark Chapman chastised Pakistan in a manner few had done or come to witness in the recent times, particularly here in Pakistan's home turf.
Truth be told, it did appear as though Chapman was cutting a different dash altogether, batting on a different plane with the ball coming nicely onto the bat.
He couldn't care a thought in the world about standing up to the tall challenge posed by a Shaheen Afridi.
But while the start to his inning was rather slow, Mark Chapman scoring 4 off just 9 odd deliveries, the acceleration was rather tempting and something worthy of staying hooked onto to the game.
A lanky six over deep square leg of Shadab Khan would mark his intent.
But with 120 needed off the final 10, there was more up Mark Chapman's alley than any other New Zealander at that point in time.
Soon, the rasp cuts off Ashraf towards cover and backward point took over and a fifty was reached off just thirty odd deliveries. But still, the task wasn't quite over. There was much more to do. More white ball whacking to engage with.
Fortunately for the left-hander with Jimmy Neesham set at the other end in a mood to dominate, it won't all come to rely solely on Mark Chapman who still had to play the chief destructor of the ball.
And he did give an ample evidence of that in executing perhaps the shot of the day in dancing down the wicket to Afridi, lifting one of the best speedster's in modern cricket over long on for a six.
With his towering century, a first for him in T20I's, Chapman may truly have cemented his position as a capable lead player in the twin white formats. Lest it is forgotten, the man who got dismissed only once before in the series having hit two exciting half centuries had hit a century on his ODI debut.
The moment Mark Chapman scored his maiden T20I century 😍 🏏 #PAKvNZ #CricketNation
Apr 25, 2023, 5:10 AM
Twitter For OneCricket
In this post Guptill and post Taylor era where New Zealand desperately crave match-winners so that all the pressure of big scoring doesn't only rest on Kane Williamson, the rise of Chapman as a man who makes his Mark more often than not, is indeed impressive news.