Who should be India's next T20I captain?
---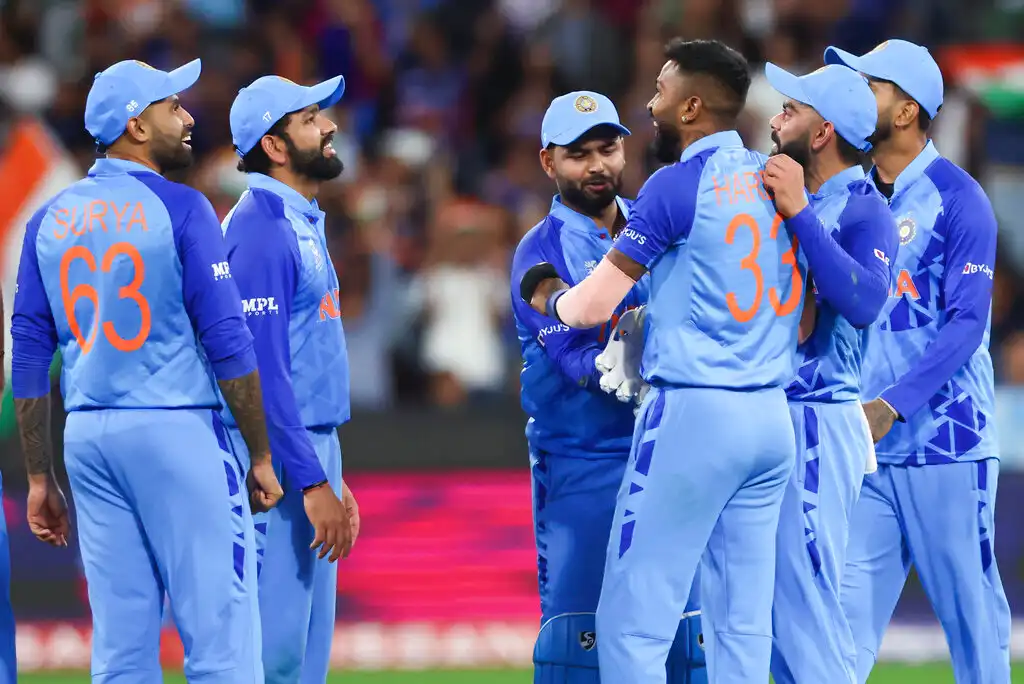 India team in the World Cup [Source: Associated Press]
Team India suffered a humiliating defeat at the hands of England in the T20 World Cup semi-final.
Let's be honest, we expected a fight from the Indian side, but unfortunately we witnessed a mauling by the duo of Hales-Buttler.
The moment we crashed out of the tournament, alarm bells started ringing and people questioned Rohit Sharma's tactics in the tournament. Some felt he was lazy and the decision making wasn't upto the mark. Others felt he tried too hard and the results didn't go his way.
Some experts also demanded Rohit to step down from India's T20I captaincy and simply focus on Test and ODI formats. Well, this actually isn't a bad idea, considering the workload issues Rohit has had over the past few years.
Maybe India does need a change, maybe they need fresh ideas, new energy and a new crop of players. So at OneCricket, we analyse three potential candidates who can replace Rohit as the new T20I skipper of India.
Hardik Pandya
The obvious choice for the captaincy position. Just what the Indian doctor ordered. Hardik Pandya has a dynamic personality and perfectly fits the new style of cricket everyone wants India to play. People questioned Gujarat Titans when they made Pandya their captain, but the all-rounder silenced his critics in style by winning the coveted IPL title as the skipper of the side.
Surely the sample size is small (just one IPL season), but it showed glimpses of Pandya's tactical brilliance and his man-management skills. He will captain India for their T20I series against New Zealand and the team management will certainly keep an eye on his captaincy skills during the series.
However, the only question mark surrounding Pandya is his fitness level. Yes, he has proved his doubters wrong, but will he stay fit? He has a track record of chronic back issues, but if Pandya can avoid it, India will be in safe hands.
Rishabh Pant
If India really want to play a gamble, then Rishabh Pant is the best bet. He has the experience of captaining the Delhi Capitals team, but honestly, he has blown hot and cold as a skipper. Pant has his doubters when it comes to his tactical skills on the field, but we should remember that he is still pretty young.
DC's coach, and Aussie legend Ricky Ponting has always lauded Pant and if a player of Ponting's stature is backing you at every step, you ought to be a special player. Remember the last time India took a gamble and made a wicket-keeper batter their T20I skipper? Yes, I am talking about MS Dhoni. He repaid the faith and won team India the inaugural World T20 championship.
What if Pant takes over from Rohit and manages to help India win the T20 World Cup in 2024. Surely I am dreaming, but nothing is impossible.
Virat Kohli
Maybe Virat Kohli deserves one last dance with the Indian side. A lot of people believe that he was unnecessarily criticised for his T20I captaincy and perhaps Kohli was forced to step down from his position.
Imagine Kohli fans, what if the 'King' is once again appointed as the T20I captain of India? There is no problem in day-dreaming and as a Kohli fan I am doing it at the moment.
Team India needs a leader, Team India needs someone who can be vocal, and Kohli has all that quality. Maybe he can be someone who can nurture the youngsters. Not saying Kohli is the best choice available, but it certainly isn't the worst choice either.
As of now Rohit Sharma is still the leader of the pack, but things can change quickly. It would be interesting to see how things pan out in the coming months.
---
Also Read: Kolkata Knight Riders looking for a revamp in the mini-auction