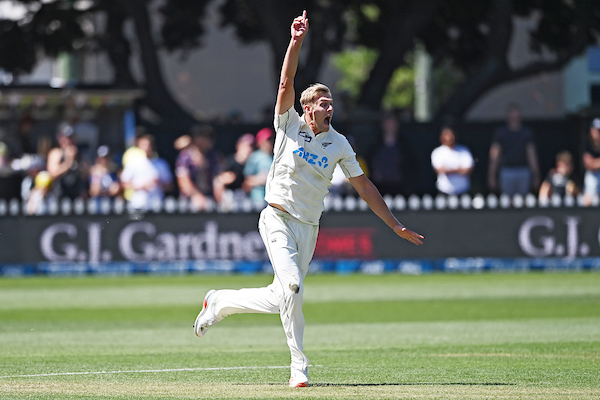 Kyle Jamieson's razzmatazz of avowed intent

Kyle Jamieson's five-wicket haul which massacred West Indies to 124-8 was an ode to snap decisions. His languid mechanisms and beefy biceps had forged an alliance with what many term the gut feel or sixth sense to leave the Caribbean trailing by a jumbo 336 runs.
But the green and mean patch in the middle lied second in order to witness the speedster thinking on his feet. His girlfriend remained the first. Jamieson had seized a minuscule window of opportunity to tiptoe out of the hotel room and ensured he had a cute little present waiting for his better half on her birthday. "I actually sorted it out myself this morning," the quick told the host broadcaster after the day's play. "I was very wise and went down and saw the concierge and hopefully she's not listening to this before she's walked back into the room and seen hopefully a nice bouquet of flowers sitting there."
Having ticked the initial box right, Jamieson had another surprise in store, albeit not so sweet for the concerned recipient. Uniform bursts of wind and Tim Southee steaming in at full tilt was a proven recipe for disaster and the early exits of Kraigg Braithwaite and Darren Bravo had carved a perfect storm for his heir apparent. Having sent down a couple of lifters eerily past the edge, Jamieson seamed his way into the wickets column as John Campbell nicked behind in a flurry of arms and panic. Common wisdom would've pointed towards an encore into the corridors of uncertainty but a timely piece of advice from Daryl Mitchell prompted Jamieson to chance his arm with the booming inswinger. Roston Chase had already fallen prey to a banana in Hamilton and thus, there was enough merit to just give it a shot. And boy did it pay off. Chase was bowled neck and crop, the wreckage of the stumps setting in motion the leg umpire's quest for a missing bail.
"Yeah, managed a wicket early and then I think it was Daryl Mitchell that said, 'Try a big innie,' and it worked and so that was probably his wicket more than mine really.", Jamieson confessed of the bamboozling missile which planted him in the reckoning for a hat-trick. He had already nabbed one this home summer and outlandish as it was he wasn't ruling out a double whammy off the table. "I thought I'd be pretty lucky to try and get that twice in a season. But worth a try anyway.", Jamieson recalled.
Jermaine Blackwood was trapped in a twilight zone. He knew he shouldn't flick the inducker but couldn't help it nonetheless. The cherry thrashed into the knee roll, and the packed house at Basin Reverse joined in the chorus of the Kiwi appeal, perhaps more in the ambition of the jackpot than the belief that the ball would zero in on to clip the wood. The umpire's finger sat deep into his pockets, and even technology supported the on-field verdict.
"I knew it was missing. I think it was more playing off the crowd a little bit. It was such a great atmosphere. Not really sure if you can beat, I guess, the Basin Reserve on a day like today. So yeah, we thought why not, we'll give it a shot. And unfortunately, it was just doing a bit too much", Jamieson admitted to having burned a review in the spur of the moment.
The gross scoreline of 29/4 doesn't allow for rampant wafts of the blade or else you might be in for some stick by the coach. Eyeing a chapter in his good books, Shamarh Brooks offered more judgement than flair as New Zealand elbow greased for a scalp that would break the batting unit into half. Water was trodded in such painstaking fashion that once a run was scored after 27 dot balls on the trot, with Jamieson and Southee tightening the noose in tandem. Fortune did favour the brave as Blackwood escaped two near-death shaves with Jamieson couldn't latch on to a dying return chance and technology arriving at the rescue to overturn an lbw shout. Despite his life dangling perilously on his palm, Blackwood's rearguard worth 69 - his second fifty on the bounce - was the flame that kept Windies' candle alight.
His batteries recharged owing to a 13-over breather, Jamieson embarked on a killing spree right from the word go. He served a cocktail of good length rockets and the occasional tempters in the driving region to incite guesswork before pulling the rabbit out of the hat. Brooks shouldered arms to the final delivery which to his utter shock straightened like a ping-pong ball ricocheting off the fringe and grazed the very top of off. The definition of the dream delivery to a right-hander. Jason Holder couldn't ride the bounce as convincingly as he'd have preferred to and Alzarri Joseph was fed the carrot of the wide sucker, as Jamieson accomplished his second fifer in a Test career as young as three games.
The rookie will dominate the headlines in tomorrow's sports bulletin for fuming figures of 13-4-34-5 but his spikes are rooted firmly to the ground. "It's called, I guess, a four-pronged attack," Jamieson accredited his steep rise to his sounding boards. "And I guess, myself very much being the fourth prong of that. You look at Tim [Southee] and Trent [Boult] and Wags [Neil Wagner] and the way they've gone about their business in the last eight-ten years and it's nothing short of world-class.''
''And I think for me, firstly to be in the environment around those guys, I learn so much. And then to come in and bowl off the back of what those guys are doing, it sort of makes my job a little easier. I just consider myself very fortunate to play in the same team as those guys and play in the same era as three of New Zealand's greatest ever quicks.", Jamieson signed off.
New Zealand are simply two strikes away from owing the privilege to enforce a follow-on on West Indies for the second time in this series. But Jamieson insisted the team will cross the bridge when they meet it. "No talk of that yet. We'll just sort of enjoy today and we'll reflect on how that's gone and what we need to do to take two more wickets and then it'll probably be a conversation for I guess guys above my paygrade." Sly with speed and with wisecracks, Jamieson is sowing his wild oats alright.
Powered by Froala Editor