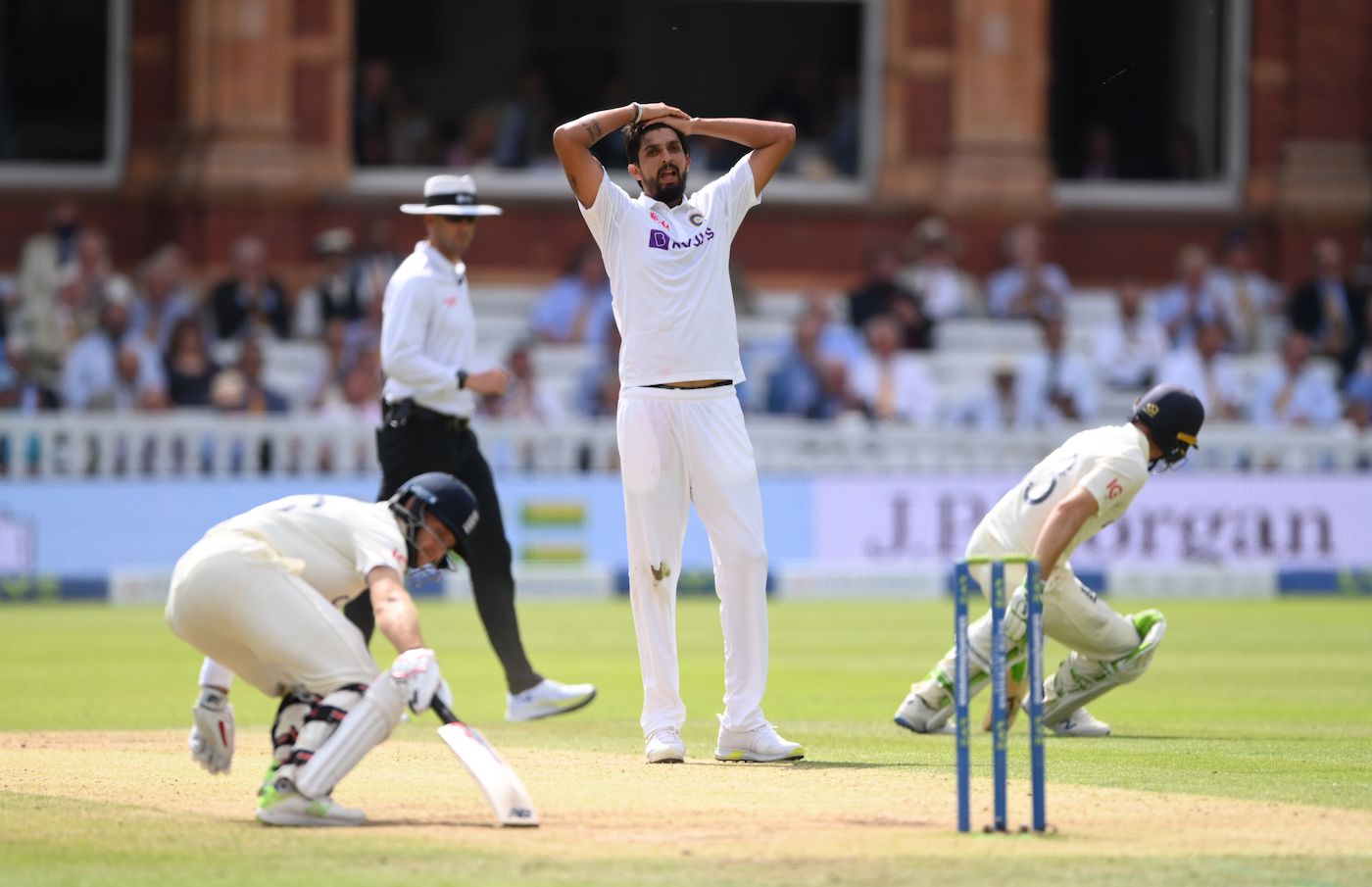 ENG vs IND | 2nd Test, Day 3: Root's chanceless hundred, Ishant's toil keep game wide open
Joe Root put on a masterclass of how to construct chanceless Test innings and scored a daddy hundred to help England boss the game on the third day of the second Test at Lord's.
The hosts were also helped by good fortunes and timing as the pitch was its best for batting and an in-form Root did not allow any Indian bowler chance to get him and put England under the pressure. For his good, he finally found support from all England batsmen for some period of time and England went past India's 364 in the first innings.
Mohammed Shami castled James Anderson, who was subjected to thunderbolts from Jasprit Bumrah, on the last ball of the day to set up things nicely poised for the last two days.
Records tumbling for 'run machine' Root
Joe Root has been the lone man standing for England in the year so far. The journey that started at Gall where he single-handily battled against Sri Lankan spinners on spinning pitches and the first Test against India in Chennai, came with the same intensity at Lord's.
He was just a few runs away from Graham Gooch's tally of runs as the second-highest run-getters for England and he went past him in the easiest of easy manner. He bridged that gap between him and Gooch at Trent Bridge with a half-century and century in consecutive innings.
He also had to fight his own form on home soil coming into the series against India and if the first three innings of the series are any hint of what he has become, the remaining three and a half Test matches are going to be one hell of toil for Indian bowlers.
He played with such control and precision that none of the four pacers Kohli unleashed against him could make him feel hurried. He was so decisive on what he had to play at and what to leave that frustrated Indian had to finally accept that opportunities would be coming from the other end only.
After coming into bat when England when two down fairly early in reply to India's 364, Root carried his bat out of the ground at the end of the third day's play.
He scored his 22nd Test hundred and fourth at the Lord's in the process of reaching the 9,000 runs landmark in the longest format. He stands behind only Alastair Cook and if he can continue his golden run with the bat, former England skipper's tall tally will not be insurmountable for the skipper.
Ishant's toil and rewards
Virat Kohli had handed over the new ball to Ishant Sharma in the afternoon session of the Test in a surprising move. The pacer was playing his first game after the World Test Championship against New Zealand and the first spell has had enough sample of rustiness in his rhythm.
He was guilty of allowing England openers with deliveries they could easily leave and lacked penetration off the surface that appeared flat on the face of it.
He was not at his best but slowly and steadily picked up his rhythm and line of attack. He has been very successful in the recent past for the more and more deliveries he has bowled in the fuller areas and Jos Buttler tasted the foul taste of the first such delivery.
The wicketkeeper is going through a bad patch in the longest format and Ishant was keen to ask Buttler if he was willing to come forward to smother any sort of movement. Turned out the batsman was lacking in confidence and decisiveness to come forward and the ball moved enough to disturb his stump.
His credentials against left-handers have also been exemplary and Kohli banked on him to break the dangerous-looking partnership between Moeen Ali and Root. He did not deliver immediately but eventually found a perfect delivery from round the wicket to lure Moeen into playing and Kohli himself took a low catch to keep India in the game.
He brought India right back in the game after sending India's perpetual nemesis with the bat—Sam Curran on the very first ball he faced. The length of the ball did not allow the left-hander to come fully forward while the line did not allow him to leave the ball and Rohit Sharma was delighted to see his back.
It would be argued if India made a mistake by playing Ishant Sharma over Ravichandran Ashwin who could have brought more tricks on what was a flat surface at Lord's but the pacer did all he was asked to deliver albeit after an initial struggle of finding a perfect rhythm.
Looking ahead to the fourth day
England have a lead of 27 runs and they would be looking to bundle India out cheaply and chase down runs to go 1-0 up in the five-match series. On the other hand, Virat Kohli-led Indian batting will be looking to make amends to their brittle batting in the middle order to set up a challenging total for the hosts.
If the pitch remains as batting-friendly as it was on the third day, the Indian batting order, especially the beleaguered middle order of Kohli, Cheteshwar Pujara and Ajinkya Rahane should be willing to put their heads down and search for some vital runs for themselves and the team.
The game is wide open with two innings remaining to be played on the last day, but with a lead of 27 runs, a brittle Indian batting lineup and a longer tail, England would be thinking they are in with a massive opportunity.