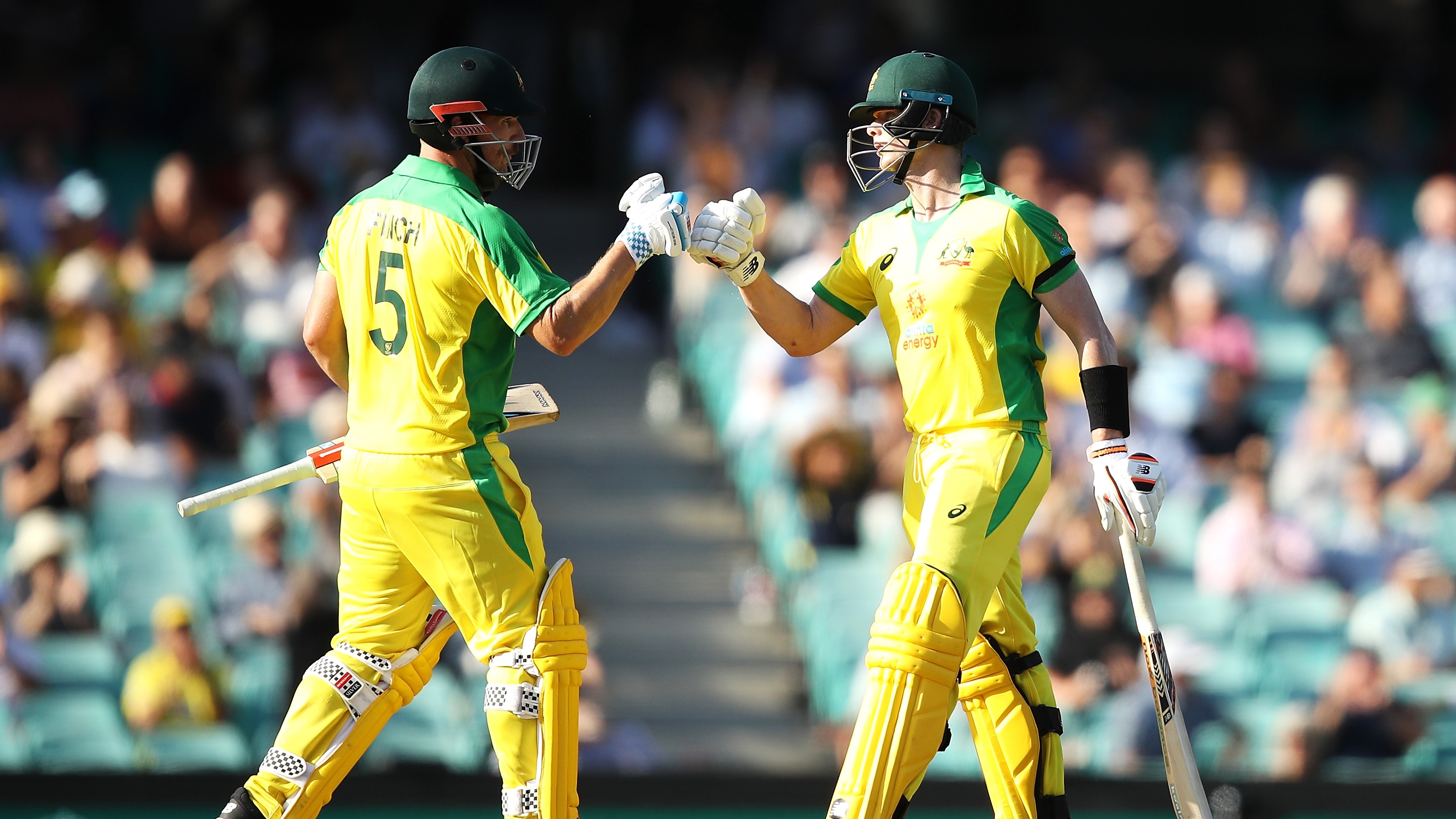 AUS vs IND | 1st ODI: Hundreds from Smith & Finch ensure Aussies take lead
With Jasprit Bumrah playing and missing the last delivery of the 50th over by Mitchell Starc, India succumbed to its fourth consecutive ODI loss, the first post the lockdown. The Indian inning, apart from the Hardik Pandya- Shikhar Dhawan partnership, never really got going and finished at 308/8, thereby losing the game by 66 runs. This gave Australia a 1-0 lead in the three-match ODI series.
Pandya- Dhawan Resurrection
Indian inning was marred by loss of early wickets as much-fancied players like skipper Virat Kohli, vice-captain KL Rahul, and IPL star Shreyas Iyer fell without giving much trouble to the scorers. At one stage, the Indian team was staring at a massive defeat with 101/4 in just 13 overs. The fast start by Mayank Agarwal and Dhawan couldn't be cashed in by the following batsmen till Pandya joined Dhawan.
The Delhi batsman was middling the ball really well. Along with Pandya, he built a partnership of 129 runs in the next 21 overs at more than run a ball. This gave Indian fans some hope. But then, Dhawan was caught off a nondescript delivery from Zampa, most likely wilting under the pressure of the mounting required rate. However, these 129 runs had given some hope. Most importantly, a set Hardik Pandya was at the crease even after Dhawan's exit.
But Ravindra Jadeja, who joined Pandya, couldn't keep up with the run rate and increased the Mumbai Indians' star's workload. This led to a mistimed shot by the latter, giving Zampa another breakthrough. Post this, only formalities remained to be completed.
The Early Collapse
In such a huge run-chase, India's top order was required to form a base, much like what was done by David Warner and Aaron Finch for Australia. Instead, they crumbled like a pack of cards, trying to play shots that were never likely to succeed. Mayank Agarwal rushed through his on-drive and gave away a superb start that he and Dhawan had given to the inning. Kohli was given a life very early in his inning when he was dropped by Zampa at deep fine leg.
But the Indian maestro couldn't capitalise on it as a short ball from Hazelwood got the better off him. He handed an easy catch right into his opposite number's hand, who had placed himself at short mid-wicket just for that. Iyer was caught napping against another short ball as it climbed on the right hander, exposing his poor technique.
All these batsmen got out because of some brilliant bowling from Hazelwood. KL Rahul's dismissal though, was probably the softest as he ended up hitting a full toss to Steve Smith at mid-off. The entire top order, apart from Dhawan, was in the dressing room when the team's score was just 101. In a chase of 375, this painted a sorry picture of the batting order.
Smith Found His Hand Indeed
Earlier in the day, Australia, after winning the toss, had decided to bat first and then proved their decision right. Openers in captain Aaron Finch and experienced David Warner added 156 for the first wicket in 28 overs, giving the attacking middle-order batsmen, Smith, a solid launchpad. While Warner got out for just 69, Finch went on to score what would turn out to be his 16th ODI hundred, also becoming the second-fastest Australian to reach 5000 ODI runs (126 innings), just behind David Warner (115 innings).
This laid down foundation. However it was not used by a big hitter like Marcus Stoinis and only partially by Glenn Maxwell. Instead, it was a calm and composed Smith who hit the third fastest 100 in Australia's ODI history, scoring the century at just 62 balls. Smith, who had said before the match that he had found his hands (after a dismal performance in the IPL), scored freely with awesome lofted cover drives which went for sixes, a rare sight in ODIs.
In total, he made 105 off just 66 balls, taking Australia to a more than healthy total of 374. Maxwell's 19-ball 45 must not be sidelined among some glittery performances as it provided the much-needed impetus on which Smith built his inning.
Curious Case of Dropping Catches
The old saying of 'catches win matches' is a work of pure genius as there hasn't been an instance when the team that has dropped a lot of catches has still gone on to win the match. It was proved this time as well, when the butter fingers of the Indian unit, along with huge judgment errors on part of the fielders, resulted in a great number of drop catches. Smith was dropped twice and so was Maxwell. And they made the Indian team pay for those drops in a big fashion. The culprits for the dropped catches were Dhawan, Yuzvendra Chahal, Iyer, Mayank, and Hardik Pandya.
Sixth Bowler: A Major Pain for Indian Think Tank
The problem of Pandya not being able to bowl has caused a lot of pain for the Indian team as there was not even a single member in the playing eleven who could be entrusted with bowling 4-5 overs when one of the five main bowlers couldn't get things right. This resulted in what was a butchering of bowlers by Maxwell and Smith. In one over of Chahal, Maxwell hit 21 runs, making him the costliest spinner in India's ODI history as the leggie finished with stats of 1/89 in his 10 overs.
Other bowlers weren't spared either as most of them returned with near 6 or above economy rates. Even the much-fancied Bumrah (1/73 in his 10 overs) was taken to the cleaners by the Australian batsmen.
What's Next?
Next on the menu is the do or die game for Indian which would take place at the same venue on Sunday. Changes in the team are a must, especially in the case of having a sixth bowler. However, the team really doesn't have a choice as in order to accommodate another bowler, it would have to drop a batsman, which isn't ideal either, considering India's performance with the bat.
With problems aplenty, it would be exciting to see how captain Kohli tackles this situation.
Powered by Froala Editor
Powered by Froala Editor